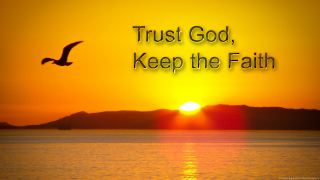 Trust in The Lord
Trust in the LORD with all your heart; do not depend on your own understanding. Seek his will in all you do, and he will show you which path to take. Proverbs 3:5-6 (NLT)
Trust God from the bottom of your heart; don't try to figure out everything on your own. Too much analysis leads to paralysis that will not help you. Listen for God's voice in everything you do, everywhere you go; he's the one who will keep you on track. You can't do it on your own. He is watching over you and leading you. When He's talking to you
don't assume that you know it all. Run to God and Run from evil.
This admonition does not mean that we are not to use our own senses or understanding but we are to employ legitimate means in the pursuit of our goals; but that when we use it, we are to depend upon God and his directing and overruling providence. Let not the wise man glory in his wisdom, the teacher points out not only where we are to rely, but also where we are not to rely.
God showed up in a real-life flesh suit to prove that He is who He says He is. It is for that reason we can trust in Him, lean on Him, give your plans over to Him, and trust He is going to work it out for you. We can be free to think of the good and the beautiful rather than obsess over our fears because we can trust God at work in our lives.
If you trust yourself you will need yourself to sustain yourself. But if you trust the Lord, the Lord takes full responsibility of sustaining you.