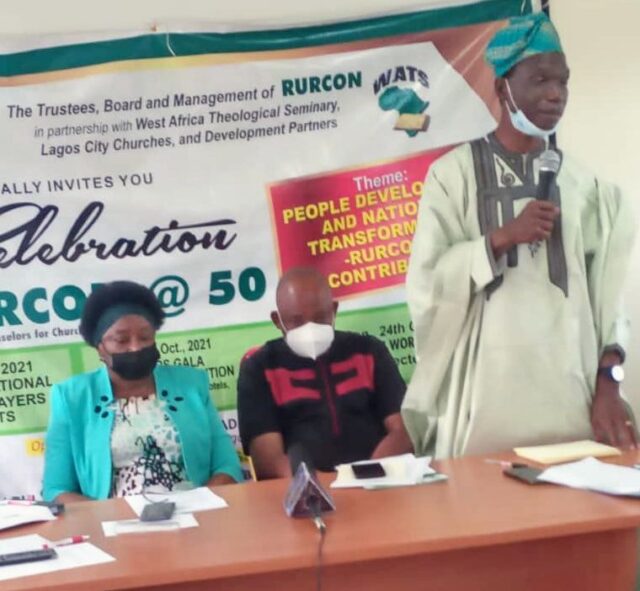 RURCON @ 50: Tasks The Church on Transformation
Rev Eric Ighalo, a member of the board of directors of The Rural Development Counsellors for Christian Churches in Africa -a faith-based development agency (RURCON), has said, the key to society development and transformation remains with the church.
Speaking at a recent media parley with journalists on the 50th anniversary celebration of RURCON, held at African Centre for Theological Studies (ACTS), Lagos, Rev. Ighalo said, "The instrument of God for development and transformation of the society is the church and people are looking up to the church for that impact".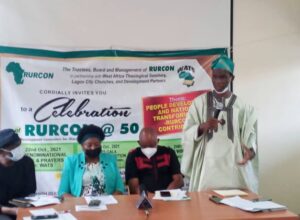 Ighalo who had for many years been in the vanguard of church/community development, stated that Lagos church in particular has the influence and power to change the situation of people. "The church, especially in Lagos has all it takes to support and give succour to the vulnerable and those in need. But, the inability of the church to harness the resources to work with for that common good is the problem". He further said, the funds are there to be accessed but the church needs to put in place a structure to harness the funds".
Addressing the press parley, Rev. (Dr.) Mrs. Peace Goodey, a member of the RURCON Board Of Trustee, said, the celebrations has taking place across RURCON Field offices in Jos Plateau State, the U. K Office in London and now the major celebration in Lagos between Friday 22 and Sunday 24 October, 2021 with various activities already lined up.
"Fifty years is a major milestone for an institution, as it is for an individual. Our celebration is not so much a festivity, but an occasion to pause and look back at what RURCON –as a faith-based  Development Agency  and Professional Development Counseling Institution has done across Africa", she said.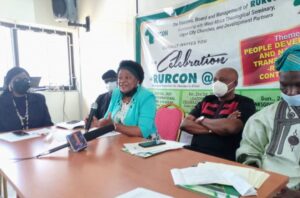 Goodey also described the celebration as a moment to look ahead at what can still be achieved in coming years in partnership with Lagos Churches, Theological Institutions, the State Government and the press.
Speakers expected at the celebration include Bishop Jwan Zhumbes, Anglican Bishop of Bukuru Diocese, Jos, Plateau State known for his developmental exploits, Dr Otive Igbuzor, Chief of Staff to the Deputy Senate President and a leading Development expert, Prof. Sunday Agang, Provost of the Jos ECWA Theological Seminary (JETS), Mrs Ruth Dul, Executive Director of the Christain Rural and Urban Development Association of Nigeria(CRUDAN), Mr Alex Baba -a Serial Entrepreneur, Business Coach and Fund Adviser as well as Lagos State CAN and PFN Chairpersons, Bishop S.T.V  Adegbite and Apostle Okwuonu Enyinaya with CCN Gen. Sec., Very Rev. Dr. Evan Onyemara is going to be the guest speaker.
RURCON established in 1971 by Mr. Peter Batchelor and Da Barnaba Dusu, is a Pan-African network built with the vision to help and see the African Church transformed as God intends, seeking to transform communities by supporting African churches in holistic development through training, courses, seminars, workshops and counselling.
It has over the years worked in 36 African countries and gained international recognition in Christian Development Education and as a Development Agency that assists Churches, Christian organisations and individuals including communities. 
It is not a Funding Agency, but an Enabling Organisation that believes in self-reliance, sustainable Lifestyles and Livelihoods based on good Christian Stewardship focusing on the poor.
However, the Provost of ACTS, Rev. Ambrose Massaquoi at the press parley, observed that the church has always been skeptical of the genuine intention of para-church organization.
"When an organisation like RURCON comes with an idea, instead of the church to embrace it, they see the organisation as coming to invade their territory and as such don't give the needed support," he said. Expressing the hope that RURCON will be embraced and given the needed support.
In a separate contribution, the Lagos State CAN chairman, Bishop STV Adegbite represented by Rev. Stephen Oyinlola and Lagos PFN chairman, Apostle Eyinnaya Okwuonu represented by Rev. Olugbenle Olumide, respectively expressed willingness to support RURCON in Lagos State as they look forward to a successful collaboration.