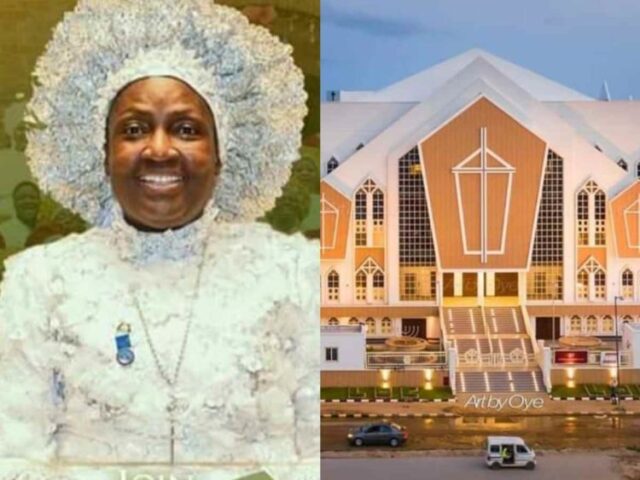 Rev. Esther Ajayi's Multi-Billion Naira Church Cathedral Set For Grand Opening, Pastor Adeboye is the Guest Minister
Today Sunday, another landmark is in making beside the popular Landmark Place at Corporation Drive, off Ligali Ayorinde Street in Victoria Island Extension area of Lagos, when Love of Christ Generation Ministry (LOC), a C & S, white garment church will formally declare open their multi-billion naira church Cathedral.
The architectural piece edifice has attracted notable and highly respected men and women in Nigeria, including a former Nigeria President, Chief Olusegun Obasanjo, royal father, the Ooni of Ife, Oba Adeyeye Ogunwusi. Also, business moguls, Chief Adedoyin (Daily Needs Industry) and Alhaji Rasaq Akanni Okoya (Eleganza Industry) including spiritual heads of different denominations in Nigeria, as visitors to the new cathedral on sight seeing the wonders of God.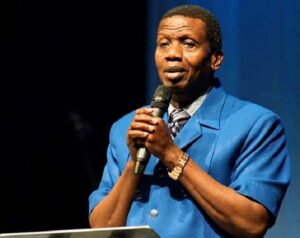 The cathedral will play host to Nigerian and foreign dignitaries, Christian leaders and the general public during its grand opening where revered General Overseer of Redeemed Christian Church of God (RCCG), Pastor Enoch Adejare Adeboye will be the guest minister and first to preach on the new cathedral pulpit.
Prominent men of God expected to grace the occasion include, the president of Christian Association of Nigeria (CAN), Rev. Supo Ayokunle, the founder of Mountain of Fire and Miracle  (MFM) Dr. Daniel Olukoya, the founder of Christ Apostolic Church, (CAC) Agbala Itura, Prophet Samuel Abiara, the head of Celestial Church of Christ (CCC), Rev. Mobiyina Oshoffa, the head Cherubim and Seraphim, (C&S) Church, Pa Adegboyega Alao. 
Also, the former president of Nigeria, Chief Olusegun Obasanjo, the Ooni of Ife, Oba Adeyeye Ogunwusi, Ojaja 2 among others are expected to be at the grand opening.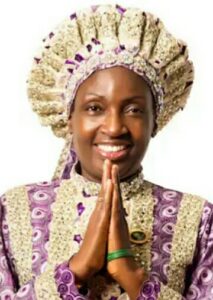 In a chat with some journalists in preparation for the grand opening, the founder of the church, Reverend Mother Esther Abimbola Ajayi said, "I am glad to tell you that 'Baami' Enoch Adejare Adeboye will be the one to preach at the dedication of our church auditorium on Sunday. I know you will be surprised because this kind of thing has not happened in the history of the white garment church before. But that will tell you as promised, that we are on the mission to unite the body of Christ. The body of Christ is not divided. We are on the mission together, God is answering this prayer on this mission and we will get there. Jesus Christ is not a magician. He is a miracle worker. He is working miraculously to take us there.
"I know many will wonder why Pa Enoch Adeboye will deliver a sermon in C&S church. It simply means we are united. We are coming together as one body in Christ. God is also God of the gentiles. I have a vision that this is just the beginning of an amazing thing. The Lord has just started with me."
She added that many other top church leaders will grace the occasion. Stating that, all church leaders are her fathers' in faith. "Many top church leaders will grace this occasion because all of them are my fathers' in faith. I look up to them. The head of C&S worldwide, Pa Solomon Adegboyega Alao, has a Muslim background, and was at a time preached against Christianity.
"He once used his wife's white garment to sow pillow cases. But today he is the head of a Christian denomination in Nigeria. Redemption Camp used to be a forest. But see how God used Pastor Adeboye to transform it into a city. Similarly look at Oyedepo, Olukoya, and others that have turned the wilderness around their churches into cities. I look up to great church leaders like that as father's of faith."
Citing the examples of other Church leaders around the world like George Bluman, Mike Murdock, Joyce Meyers who have experience and incredible testimonies, Ajayi said, I look up to these great ministers of God. In fact, I covet their grace every time I pray."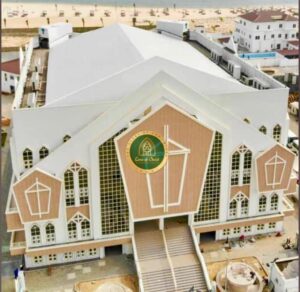 Rev. Ajayi attributed it to ignorance of some people who travel abroad in search of greener pastures. Bemoaning some people traveling abroad for greener pastures. 
Ajayi who had spent years in the United Kingdom bemoaned that, "It is ignorance that makes us go to developed countries looking for a better life, we have to be very careful of how we educate people. For example,  I left for about fifteen years, after coming back, I discovered I cannot live anywhere except in Africa because home is home. Oftentimes many people regret going abroad. But they find it difficult to retrace their steps back"
"The developed countries also have their problems. Many go there because of their economy but they eventually realized things are not as rosy as they thought. The rent alone is killing there. We spent about 850 pounds every month on rent. The tax my husband paid then was about 60 pounds per annum. But many are not aware of this. They erroneously think going abroad is the way forward. I have always said this, if you have N100k in your account after spending and saving you can survive here in Nigeria. But you hardly see a black man that would have 40 pounds left after spending in the U.K. That is how their society is."
Ajayi noted that only nurses and a few professionals still make some money in the UK adding that, "it is difficult to make it abroad. So, it is better to stay here. "Develop yourself to be your own boss and don't wait for the government. If you wait for the government, you will wait forever", she advised. Adding that, where people are missing it is that a lot of people are still waiting for the government instead of doing something to be self-employed.
"The world is evolving. If you have a smartphone you can operate from your small phone where you don't have to pay rent, we just have to think and do something. God, help us." She prayed.
"There is nowhere like home. I have been there. Those who are running abroad are doing so because they have not tasted it. By the time you taste it you will see it. It is just like somebody running from the village to come to Lagos, it is not as easy as thought."
"Some remain abroad because they don't have money to buy tickets to come home, not to talk about where they would stay", she stated.
Reacting on insecurity in Nigeria, Rev. Ajayi said Nigerian should be patient and prayerful. God will intervene in Nigeria, " the thing is that you cannot use the devil to send the devil away. Nigeria is like a marriage. Somebody has to be patient otherwise the marriage will hit the rock and that will be the end". 
"We cannot use violence to curtail violence. I believe at one point, God will intervene. He is our creator, He will never leave or forsake us. Where will fighting take us to?, She asked and said, it will turn to war and we don't want war in this country. Our story is different from that of Afghanistan."
The prophetess observed that Coronavirus is enough to send a message to us. "In Africa, we pray about everything and the creator of the universe listens and answers. We know how people are dying in thousands in other countries but the mercy of the Lord is with us. How God did remains a mystery to them. His hand is not shortened so that he will not deliver us. I don't believe in violence." She declared.
Meanwhile, the London based Nigerian Cleric, Rev. Esther Ajayi, (a.k.a Iya Adura) and the General Overseer of the Love of Christ Generation Ministry has narrated the testimony of how God used an unbeliever couple as instrument to the growth of her ministry in Nigeria and abroad, also for the new cathedral building.
Sharing the testimony, Iya Adura stated that the said unbeliever had earlier bought a church worth £5.2 million for her in London.
Rev. Esther Ajayi said, "I have never experienced such a type of mercy before it all started when the barren wife of a Nigerian bank manager approached me for prayers in London, and we prayed. After praying, God revealed to us that the woman will bear a male child, Samuel. As foretold, the said woman gave birth to a male child but she was disobedient, as she travelled to America for childbirth. Unfortunately, she got infected with a popular virus during childbirth, and she eventually died of complications 11 days after giving birth. Her son survived."
She further said, "I travelled to Nigeria to bless the event centre of the deceased woman's husband, and during my mission, the husband of the deceased proposed the land beside the event centre to me for sale. I prayed on the said land and invited other clerics to do the same for me. 
Explaining how the couple in London were instrumental to the Cathedral, Esther Ajayi said, "Upon travelling back to London, I was approached by another couple that had earlier gifted me my church in London. The husband of the couple in London is an unbeliever, and I am still making efforts to convert them. The husband informed me that he dreamt of building a Church for me in my country (Nigeria), although they had earlier bought a Church worth £5.2 million for me. I showed the couple some photos of the land I saw in Nigeria, and they paid for the land and the construction of the Cathedral. No one can convince me otherwise about Jesus. They fully paid for the building project."
The incident proved to me that you don't have to know Jesus before he gives you visions, as stated in the book of Daniel Chapter 3."