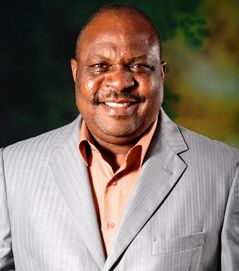 Nigerians Should Believe Limitless God
-Bishop Igbinosa
Bishop Mon Igbinosa has admonished Nigerians that God is so limitless that, no boundary, no border, no forces and power put in place that can gang up against His limitless, if we can trust Him.
He made this known while speaking on "Limitless God" at the annual Glorious Church Kingdom Celebration of Vineyard Christian Ministries, Ajao Estate, in Lagos. He said, if as a nation and individuals, we believe God in everything and see Him in everything as limitless God, we will not be limited by predicaments and situations that over showed our nation and personal lives. 
"There's no limitation with God and what He can do, He's so limitless that you can't quantify, measure or predict His limitless act. He can do amazing things beyond the imagination and capacity in every area of our nation and lives, if only we can have absolute trust in Him as limitless God", he said.
He added, our limitations have limited and capacitated us and made us limit ourselves as a nation and individuals of a particular level. But, if we acknowledge the sonship right as a child of God, we will go beyond limits, because God is limitless.
Quoting the scriptures, Bishop Igbinosa claims, when God is doing something, He will make the foolishness of limitation to compound the wise of His limitless.
He called on Nigerian leaders, policy makers, politicians and people in government to go beyond their limited plans, knowledge and promises, to seek for limitless God to actualize godly agenda and programme for the people.