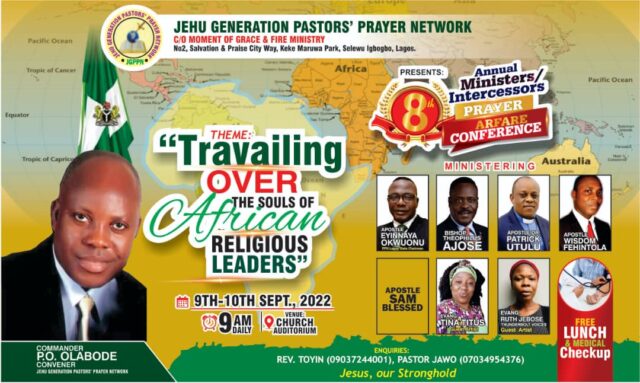 ---
JGPPN Prayer Warfare Conference
The 8th annual Intercessors/Minister's Prayer Warfare Conference begin today, Friday 9th, and to end on Saturday 10th, 2022 at Moment of Grace and Fire Ministry, Keke Maruwa last Bus Stop, Selewu Igbogbo, Ikorodu, Lagos with the theme: "TRAVAILING OVER THE SOULS OF AFRICAN RELIGIOUS LEADERS".
This is the time to call on God for intervention in the affairs of Africans, a time to engage in a serious warfare prayer to take back the soul of men from perdition. Also the time of deliverance and healing for those already in bondage and are wounded in life and ministry. 
According to a statement by the convener and President of Jehu Generation Pastors' Prayer Network (JGPPN), Commander Peter Olabode who also is the Province Chairman, PFN Ikorodu Province. He stated that the conference vision was inspired as a platform of intercession for gospel ministers, church leaders and workers, especially as concerns the African church leaders. "This is a conference different from the norm, it is going to be an atmosphere of sharing, engaging, reengineering and strategizing to spiritually enhance ministers, ministries and the church in serious warfare prayers and intercession", he said.
Seasoned and anointed warfare prayer and intercessors ministers expected as guest ministers during the conference include, the chairman, PFN, Lagos State, Apostle Ennyinanya Okwuonu, Bishop Taiwo Ajose, Apostle Patrick Utulu, Apostle Wisdom Fehintola and other respected ministers.
The 2 day ministers conference packaged with free lunch and medical check up for participants promised to be spiritual reawakening, rekindling of revival fire and sharpening one another with other participants in attendance.