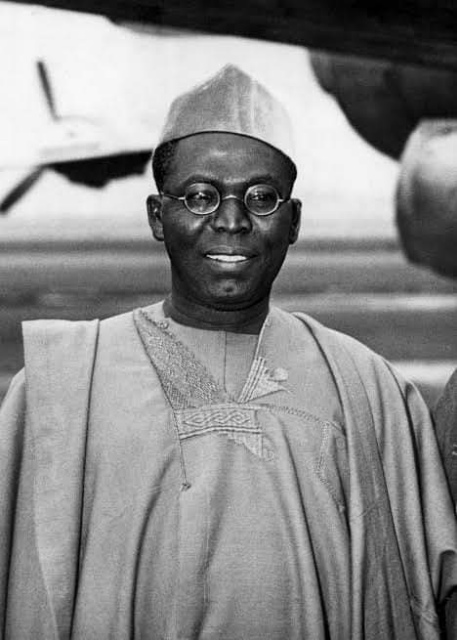 How Pastor Olukoya Goofed on Late Sage, Obafemi Awolowo -Wale Adedayo
Pastor Daniel K. Olukoya, the General Overseer of MFM was trying to be clever by half, when he reportedly asserted that late Chief Obafemi Awolowo did not fulfill his destiny, because the old man never accepted Jesus Christ as his Lord and Savior before he died. In Mushin, Lagos, we would say Olukoya spoke like an Alagbari.
In the report read by son of man, Olukoya spoke about how Great Awo was able to ensure that the Nigeria – Biafra war was prosecuted without the country needing to borrow one penny. He detailed Great Awo's achievements in the period concerned. He listed some of Awo's cerebral greatness, which wowed many at the time.
But Olukoya missed it, when he mentioned Great Awo's relationship with Jesus Christ. The MFM leader can NEVER have up to 1% of the relationship Great Awo had with Jesus Christ before Papa's passage to the other side. Great Awo knew Christ. He walked with Christ. He lived Jesus Christ throughout his life on this side of the divide.
Deception remains the stock in trade of Alagbaris, the tribe which virtually all leaders of Penterascal churches are, whether in Nigeria or abroad. They are mind-benders. They'll show and talk to you about real things with proof sufficient enough to convince you. At times, an Alagbari can part with quality items in his/her care as definite proof that the person has your interest at heart. But the Alagbari will return, after trust has been established, to clean you out. For persons like Olukoya, the target remains tithes and offerings.
Great Awo knew Jesus Christ as the Word of God. Great Awo also knew that contrary to what the Alagbaris of today preaches to rake in billions from gullible followers, the Holy Qur'an 4:171 taught the same that Jesus Christ was the Word of God and a Spirit from God. What God expect from humans in His creation is to live these Words in everything they do.
Great Awo lived God's Word. It was the reason Great Awo effected free education and free healthcare services, which were directed primarily at the most vulnerable in the society. He developed the rural areas. He gave agriculture serious attention, while not neglecting the urban centres. Great Awo, despite his primary concern for the poor, NEVER cheated the rich and powerful. The only problem they had with him was that he was giving too much attention to poor people.
And, what did Jesus Christ taught His disciples? The disciples were expected to help the poorest of the poor. Great Awo was a Prophet for the poor in his immediate environment. And, till date since his passage in 1987, NOBODY has measured up to what Great Awo did for the poor in Nigeria. Many successful men and women in Nigeria, especially from the old Western Region owe their achievements to the Prophetic entrance of Great Awo.
To a number of us, what Great Awo did wrong was the attempt to be Nigeria's president. He should have remained in Western Nigeria among the people to whom he was sent by Olodumare. Thus, Great Awo fulfilled his destiny in every respect. Olukoya should go and mind his Alagbari business. On that day, Olukoya will realise, though late, that Jesus Christ will ask him and his gullible followers about how much they followed Him – The Word of God. How many of his followers lived in accordance with that Word by making the poor and the society great.
Today, MFM is sitting on Gas Pipelines that should have ensured the Lagos – Ibadan Expressway turn out to be the biggest industrial hub in Africa. Olukoya is denying the poor, who should have been employed by these industries jobs. They gather monthly on the same land that industries which should have turned out societies around positively to collect tithes and offerings. Jobless and gullible people always fill their churches. And, the society continue to suffer.
Olukoya knows NOTHING about Jesus Christ. If he does, he would have followed the Jeremiah Obafemi Awolowo way instead of using Agbari to derobe the man, who made Western Nigeria to shine like the best country in Europe. Great Awo remains our Awo Mimo. May the enlightened soul of this warrior of the faith, which is now in the Luminous Heights continue to rest in peace!!!