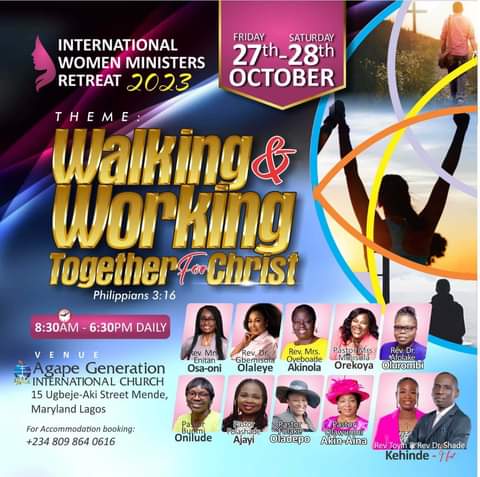 WOMEN RETREAT and EMPOWERMENT:
A high powered preparation for an International Women Ministers Retreat, theme, "Walking and Working Together for Christ" has been packaged to impact, enhance and empower Nigerian women in the ministry for a greater exploit in home management, successful ministry and better society.
The retreat schedule to be held at Agape Generation International Church, Ugbeje Aki Street, Mende, Maryland is expected to attract young and aged women in every area of calling and ministry to equip and expose them to winning strategies to succeed in their various callings and ministerial life without stress.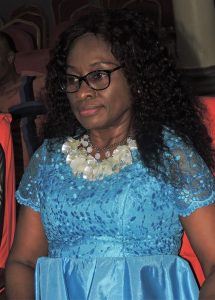 The two days retreat will feature in-depth teachings, counseling, prayers, seminars, workshop, network and empowerment.
Among notable, well respected, tested and trusted women ministers and professionals as guest speakers at the retreat include Rev. (Mrs.) Enitan Osa-Oni, Rev. (Dr.) Gbemi Olaleye, Rev. (Mrs.) Oyebo Akinola, Pastor (Mrs.) Orekoya, Rev. (Dr.) Olurombi, Pastor (Mrs.) Bunmi Onilude, Pastor (Mrs.) Folashade Ajayi, Pastor (Mrs ) Folake Oladepo, Pastor (Mrs.) Olawunmi Akin-Aina and other professionals from various fields of endeavour.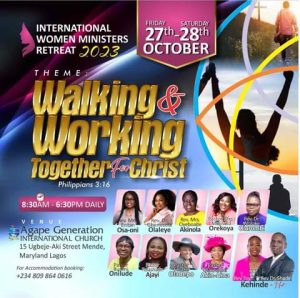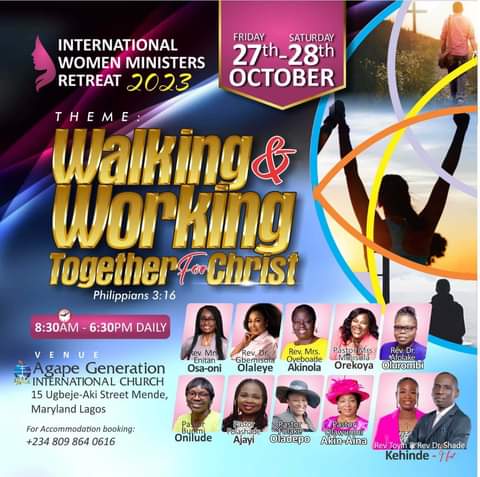 The non fee retreat but with mandatory registration is organized to be a memorable and impactful experience that will affect the Nigerian women in ministry and the general society.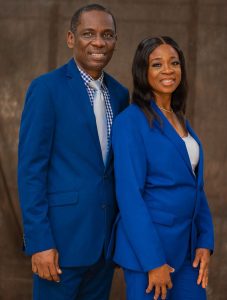 Hosts of the retreat, Rev. Toyin and Rev. Shade Toyin-Kehinde assured participants that "it's going to be a new level of total experience of enhancing women in the ministry and other areas of calling."