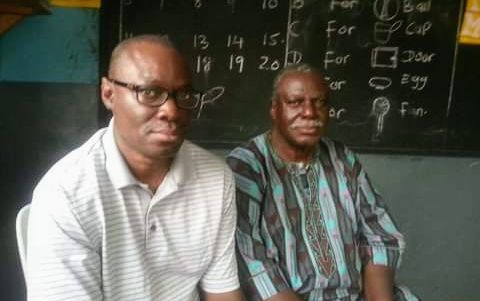 When A Believer Dies
  By Babatunde Olugboji
For me and my family, this period could be described as a time of mourning or sadness. But put in context, it is actually a season of joy. And of celebration. My brother, Venerable Akinlolu Olugboji (rtd.) passed on to glory in Lagos, Nigeria on June 5, 2021, at 75. It would be easy to say everything is not all right. Because it is not. I am hurting. Our family is hurting. But in reality, everything is alright. Because my brother is now in a better place. After the streams of tears, rivers of joy are already flowing.  
Remember that death is inevitable, but it is not the end for believers in Christ Jesus. The bible says, "it is appointed for men to die once…" (Heb. 9:27). So as followers of Christ,  we should embrace the future with hope in Christ. Even when we are hurting.
Death marks the point at which we enter directly into the presence of Christ. It is a transition from one realm to the other. When we are grieving here on earth that someone died, the hosts of heaven are rejoicing on the coming to eternity of a believer. When we die, God receives us into heaven, where we rest before him until the final resurrection. "Precious in the sight of the Lord is the death of his saints."  (Psalm 116:15) Every person, regardless of nationality, economic status or age will encounter death. It is an inevitability. Your passport on earth means nothing in heaven. It is your relationship with Christ that determines your eternity.
In Psalm 90:10, the Bible says: "The length of our days is 70 years—or 80, if we have the strength." God wasn't suggesting that every person would live to be 70 or 80. The psalmist was merely explaining our typical human experience. I thank God that my brother lived to be 75.
Our times are in God's hands. Some will have a much shorter journey on earth. Jesus didn't even live to be 40. There are times we have hope and at other times we are disheartened. Martha was disheartened when she said if Jesus had been around his brother Lazarus wouldn't have died. Like Martha, many of us get stuck in the "if only mode." If only we had done something different. If only we had chosen another form of treatment. But get real, it is unwise to live in a world of "if only." We are in a world where bad stuff happens to even good people. It is a world where good people get sick or have an accident and die. 
The good news is that death is not the end for believers because we are promised life after death. And we should prepare for death by how we spend the days God has given us. 
Are you living  for yourself or for God?  Put Christ first, and make your days count for Him.
My brother was more of a father to me. We lost our father when I was 15, and he seamlessly stepped into his shoes. He taught me how to drive, got me my first job after high school, and put me on the payroll in his office when I graduated from University. 
Akinlolu Olugboji was a kind man. Sleep well, my brother. The first born of our mother. Sleep well.
Have a great week.
Kingdom Dynamics, a weekly column is written by Dr. Babatunde Olugboji, the President, Kingdom House, a non-profit organization in New Jersey, USA.