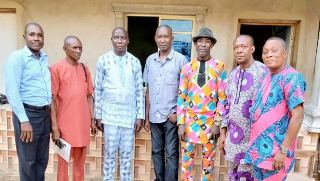 UGSOSA, Lagos Chapter Holds Inuagural Meeting, Inaugurate Interim Exco.
By Dignity Divine
The Uzere Grammar School Old Students Association (UGSOSA), Lagos Chapter recently met and had its maiden meeting at Tedi town in Ojo local government area of Lagos State.
The meeting inaugurated a 4 man Interim Exco headed by Rev. Greg Uregha as co-ordinator.
Other members of the Interim Exco include Barr. Sam Akora as Secretary, Mr Vincent Unufe, Treasurer and Mr Simeon Okworide as P.R.O.
In his address, the Co-ordinator, Rev. Greg Uregha thanked the members for the confidence and trust reposed on him and his Exco. He promised not to disappoint and stressed the need for Lagos chapter of UGSOSA.
Rev. Uregha encouraged members to be focus and steadfast, adding that, the state chapter is a parallel body to the parent body and not contending with the parent body policy.
He said, what all Uzere grammarians old students want is development and growth of the school.
The meeting jointly hosted by Rev. Greg Uregha and Mr Vincent Unufe attracted good numbers of UGSOS residents in Lagos. The meeting was a moment of conviviality in nostalgia as it afford those in attendance, the opportunity to relieve on old times.
High point of the meeting was the agreement to identify with the parent body, but, stressed the need for decentralization to strengthen the association.
Among those present at the inaugural meeting include: Barr. Ezekiel Ogbaide, Dr. Alex Egbagbara, Mr. Justus Otunabruke, Mr. Samson Amawhe (aka "MEN O MEN) and others.