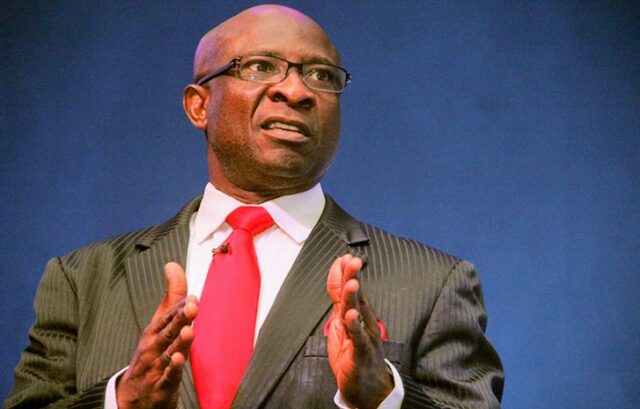 Two Important Fact Believers Should Remember
–
Pastor Iruofagha James
The General Overseer of Glory Christian Ministries (GCM), Lagos, Pastor Iruofagha James has stated two important facts to remember as a Christian.
Pastor James made these point known through his verifiable Facebook account, and stated, first, that Christ death on the cross provided for all that man needs; the total man – spiritual and physical, were provided for through the grace that was released when Christ died on the cross. 
Adding that, "our sin and man's fall made man to be vulnerable to all the challenges and problems we are now facing in life. But Jesus Christ death on the cross provided the grace to meet with the whole of man's needs", he said. 
On the second fact, James said, "only God knows why in His sovereignty He provides grace instead of meeting a particular need that arise in our lives. "Only a sovereign God knows why He chooses to provide grace instead of meeting those needs that arise in our lives". 
Referring to Paul, the apostle as a perfect example of one who prayed three times for God to remove the thorn of flesh in his life but God replied him, "my grace is sufficient for you". 
He explained, God could have chosen to take away the thorn, He had the power to take away that thorn and heal him, instead He choose to give grace. 
"Now, what if God has chosen to do that in your life? And I am sorry, I don't have any answer for you. That is why God alone is sovereign", he charged. 
Declaring that, "He could have chosen to deal with that problem, provide the life partner you've been waiting for, answer that prayer you have been praying and give you a new job; gives you promotion, take away delays and heal your body. But instead, oftentimes He provides grace saying, "appropriate my grace is sufficient, receive it. My grace is sufficient"
"Notice one thing, God does care for us and He loves you. His care for us is not only of this world but His love for us takes care of eternity", he added. 
Pastor James counsel that, sometimes we are so short sighted and focused on the NOW that we allow the devil to torment and deceive us saying, God has forgotten about us, we are not praying enough. He advised, "Brethren, you cannot pray more than what Paul prayed three times and yet God choose to allow the thorn. He gave grace to him (Paul) and kept the thorn going on. It was to achieve an eternal end". 
He further said, "Now, I don't know what God is doing and I don't have an answer even as a Pastor, but all I know is that; sufficient grace in whatever form or shape has already been provided for, what remains is for you to reach out in faith and appropriate it, to pull it down. 
James buttressing his points, quoted from the book of Hebrew 11:6 and Mark 11: 22-24, stating, "we have to believe and have the faith to say to, "whatever mountain, "be gone" without doubts in your heart, that mountain will move and believe what you have said will come to pass. "Jesus assured us we will receive what we have asked for", he said. 
Admonishing believers, Pastor James said, these facts should be used as anchors for our soul in challenging and standing against the deceptions and the wiles of the enemy. Know them and believe them that Jesus Christ death on the cross have already provided for the total man's needs and God's word stands, "all grace for all sufficiency", he declared.