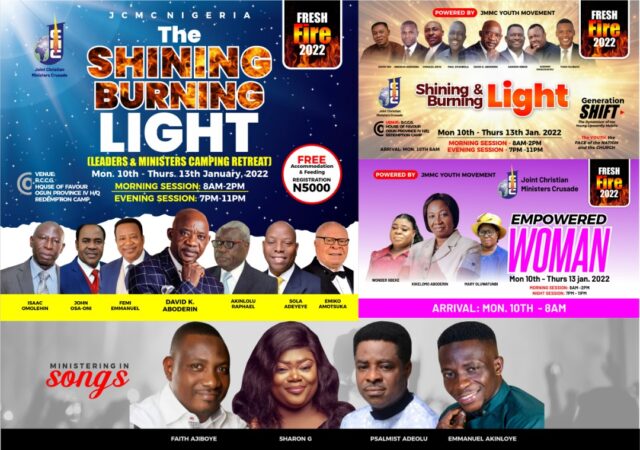 Taking The Land for Christ Fire Conference
One of the leading vanguard for Christan reformation and champions of gospel ministers spiritual renewal, revival and development, Joint  Christian Ministers Conference Nigeria (JCMC Nigeria), an interdenominational fellowship of church leaders and workers is organizing it's annual Fresh Fire Conference with the theme, "The Shining Burning Light", for church leaders, ministers, missionaries and church workers. The conference packaged as a camping retreat is scheduled to hold from Monday 10 to Thursday 13 January, 2022 at House of Favour, Ogun Province 4, RCCG Camp,  Lagos-Ibadan expressway.
According to the convener and President of JCMC, Rev. David Kayode Aboderin, he described the annual Fire Conference as a strategic, purposeful and prophetic atmosphere and environment where church leaders, gospel ministers, missionaries and church workers gathered to refresh, renew, reconnect and strategize for the great commission ahead.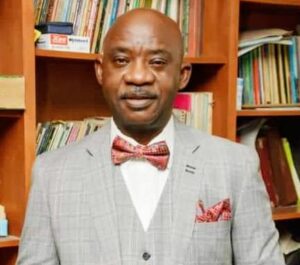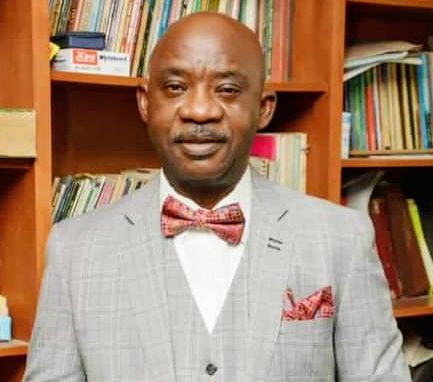 Moreso, at this period of time when a series of challenges are squarely facing and confronting the church, children of God and the ministry while the society is in turmoil and filled with unending crisis.
Aboderin added that, the theme of the conference is a call to reawaken the consciousness of the church and participants to be an exact picture of who we are, what God has made us to be and His expectations from us as shining burning light in the society and the generation of darkness.
Other features during the four days power packed conference includes a special programme for the youth, titled, Generation Shift -the Youth, the face of the church and the nation. Also a special package is designed to empower women.
"JCMC is a movement of christians to take this land and Africa for Jesus with the  conference aim to rekindle the fire and reposition Christians from every denomination to continue shining and burning as a flame in our decaying society". 
Dr. Aboderin admonished Christians, saying, no sacrifice is too big to set a new pace and standard for our spiritual renewal and development. Because, most of the work of darkness pervading our lives and the society are works from the spirit realm and to overcome them, we have to be spiritually connected and fortified by the spirit of God. "Therefore, this a call for every Christian not to be left out of the programme in making the dream of taking the land and Africa for Christ a reality", he pleaded.
Respected and notable speakers expected at the conference include, Rev. Emiko Amotsuka, Archbishop John Osa-Oni, Pastor Femi Emmanuel, Dr. Sola Adeyeye, Pastor Akinlolu Raphael, Pastor Isaac Omolehin, including Pastor Samson Obeke, Rev. (Mrs.) Mary Oluwatumbi, Rev. David Omo and others, with Dr. Faith Ajiboye, Sharon G, Psalmist Adeolu and Emmanuel Akinloye will be ministering in songs and serenade the conference with soul lifting music.