PRISCILLA OTUYA Leads Nigerian Women To Initiate H.E.L.P for Nigeria, says, BUHARI is not Nigeria's problem
Mothers of the Nations and God's Women in Nigeria recently organised a Campaign for Peace and Reconciliation Conference through Heal, Empower, Love and Promote (H.E.L.P) Nigeria Initiative.
The conference held in Lagos at the Conference hall of Rock View Hotel, Festac Town had women from different works of life and Christian denominations, with some men of God and youths participants who contributed to discussions at the conference.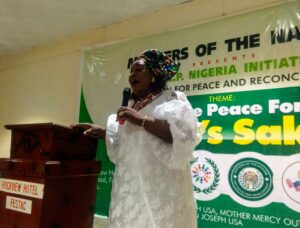 Among other things, the conference was disturbed and troubled with the range of religious intolerance in some part of the country, incessant communal killings, assassinations, provocative herdsmen attacks, ritual killings, kidnappings, banditry, gangsterism and insecurity with divisive ethnical marginalisation, campaign and agitation clamouring for succession that are now order of the day in the country, thereby turning the cherished independent's unity and peace logo to shred; it deliberated and discussed a lasting solution to douse the escalating national crises that is overshadowing the peace and progress of Nigeria.
Also, the conference sued for peace, appealing to Nigerians, political leaders and people in leadership positions to do all they can and avoid every form of induced bickering, uprising, youths resistance, violence, bitterness and hatred to give peace a chance for Nigerians to live in harmony.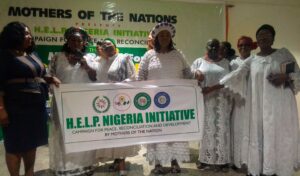 Addressing the conference, the Convener and President of Mothers of the Nation, Bishop Priscilla Otuya said, Nigeria has no business to be in ravaging crisis plaguing it if her citizens had embraced and encouraged brotherly love and compatriotism. She pointed out that, the general society, including homes, families, religious organizations and the elites have failed in their responsibilities to inculcate the principles of love, fear of God, patriotism, value character and lawful tendencies into our daily lifestyles and this has seriously have adverse effects on Nigerian society and her environment to become bed of crisis with pollution of evils.
Otuya enjoined Nigerian religious and spiritual leaders, not only to preach and speak about peace, but to practically demonstrate it among themselves to reflect on the societal lifestyle. "Christian and Moslem preachers should stop creating further division and confusion in the country along the lines of religious bias. The God Almighty who created heaven and earth is not religious, political or ethical, neither is He biased or has made a demand of any other factor outside His righteousness and holiness.
Lamenting the rate of unwanting destruction and political division religious bigotry had brought into the country, Bishop Otuya said, "Christianity and Islam are creation of man, God's demanded religion and faith is righteousness, holiness and true worship in love". 
Backing up her claims with scriptural references, Otuya said, "If the lifestyle of love, value character and godliness with love for one another have been inculcated into our social system, no one will allow or support a politician or a religious leader to lure him and kill another Nigerian and no one will encourage evil that would endanger fellow human being.
"Everyone keeps pointing accusing fingers at the president or leaders at the top while leaving and neglecting the huge log in their various eyes. The peace and change we seek must begin with us individually, as families and as religious organizations. The law of God on love, peace and righteousness is for all creation and mankind, why are we setting them aside to war and kill one another", she fumed", she lamented.
Leading Nigerian women to pray for the Healing, Empowerment and Love to be Promoted (H.E.L.P) in Nigeria, Otuya advised Nigerians to come together in peace to seek ways of restoring our lost glory.
"We have no other nation to bequeath the generation yet unborn, and this is a land of hope that will become a first world continent, therefore, Nigerians and her citizens should not give up or give room for internal and external influences aimed at destroying our nation", Otuya pleaded.