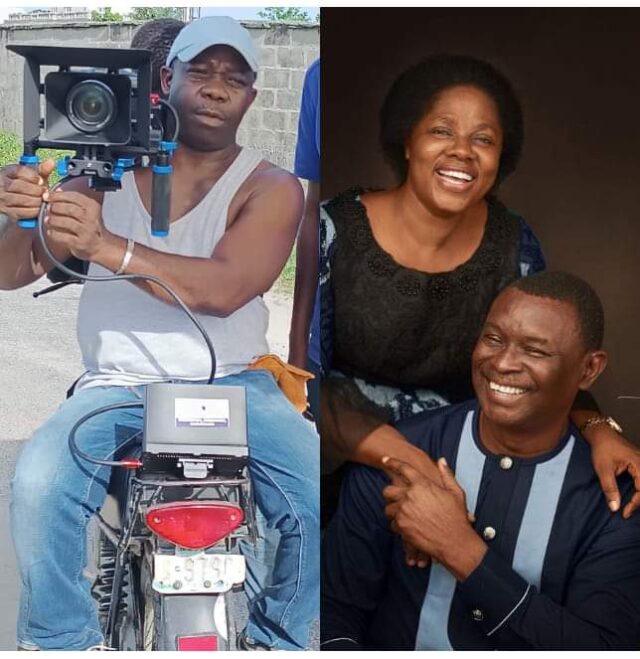 Pride Earns Me 10 Years Suspension From Mount Zion Films Ministry – Ben Ope Johnson
A renowned and acknowledged christian cinematographer and filmmaker, Asiwaju BEN OPE JOHNSON who shot the Mount Zion Films classic, "Just a Little Sin", has opened up on why Mount Zion Films Ministry suspended him for ten years from shooting films of the ministry due to pride, gross insubordination and indiscipline.
While advising people to Thread Softly and quoting from the Bible, BOJ as fondly called said, "The Lord resists the proud and gives grace to the humble". 
He said, after shooting the classic, Just a little sin and other films, the ministry decided to upgrade to a standard and higher level of filmmaking. 
In 2000, they sought for and engaged some "secular" professionals:  Director of Photography (Sunday Ogunyemi), sound recordist (Bode Odeyemi), set designer (Sammy K. Adekoya) and make-up artist (Grace Adinkwu Hassan) camera (Betacam sp). "Go and watch the film, "god's are Dead", you will see the touches of these professionals", he quipped.
But then, I wasn't happy and didn't like the film because they used "secular" professionals. 
After the film production, we were in a meeting and I said, "I didn't see a touch of creativity in the cinematography, as I was expecting what TK, Alagba Tunde Kelani did in Saworoide. But, "Bro. Mike (as we call him then) was so furious and said, "oh, because you are not the one that shot it, is that why you are condemning it? That is pride, it's a bad spirit. You must humble yourself so that God can use you. Are you trying to stop the move of God?" 
That day it was as if the ground should open and I entered, as I felt terribly ashamed of myself. Since then, I learnt to walk and talk humbly. I learnt not to condemn other people's work and do away with "the spirit of, if it's not me, if it's not us what they are doing is rubbish".
Consequently I was suspended and not allowed to shoot any film for Mount Zion Films until ten years later. My stupid and careless comment caused me a lot of setbacks and disappointment.
He explained further, "At the end of the tenth year, I was invited by Evangelist Mike Bamiloye to shoot "Sunset at Midday". Go and watch the film, the movie is super beautiful. After that, I have shot many other films.
Recently, amongst my colleagues (Christian dramatists), I observed the same spirit that took over me, the spirit of what they are doing is rubbish -The spirit that wants to stop the moves of God, the spirit of "if it's not the way I want it, it cannot be from God", is becoming so common in the ministry. 
Ope Johnson sternly warned, "everyone, especially Christians in specialists ministry with skills and talents should learn from my mistake, also from Moses. "If God can stop Moses from entering the promised land, He can stop anyone irrespective of how gifted and talented the person is or feels what he has done for God ". 
Christians, irrespective of how good you think you are in your calling, gifts and talent, should learn to respect, appreciate and acknowledge others, even if you think you are better. Because, if you are better than them, you will still have one or two things to learn from them.
Ben Ope Johnson, advised, people should be disciplined, be mindful of how they think, what they say and watch their reactions. It could have adverse negative or positive effects on their progress in life. "Excellence should be the watchword of everyone, to keep loving excellence in all they do and seeing excellence in other people's work with excellence spirit", he said.