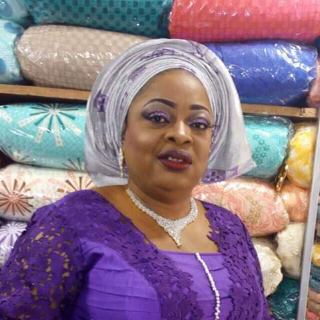 Post Covid -19 Business Recovery:
Government Should Help SMEs –Bola Oluwamotemi
Mrs. Bola Kusimo-Oluwamotemi is the Managing Director, Labak-Kus Textiles and Fabrics Hallelluyah Store, situated at Brown Street, Bolade-Oshodi, Lagos. A high brow wholesale and retail of quality, colourful and affordable laces. As a Christian businesswoman, wife, mother and dependable business manager, she spoke with PROVIDENCE on survival of the pandemic and post Covid -19 business recovery for SMEs. Excerpts;
How would you describe the total lockdown experience?
No other way to describe the total lockdown than, it was life threatening, scary and frustrating. The unimagined experience without any business transaction, movement or engagement was almost suicidal. But to the glory of God, every home and family was able to go through and overcome. It was an experience couples learnt to put resources together without animosity or misunderstanding. It was about what we have, not what I can afford. That was how it went during the total lockdown. Now, we are in partial lockdown where everyone is trying to pick up their pieces. Considering our line of business – textiles and fabrics, both the total and the partial lockdown affect our business seriously. Business have been dull, there had been no patronage, distribution or supply due to no social, religious, festive or other activities that warrant purchase of textiles or fabric materials. The Ileya and Easter periods that were supposed to attract sales and patronage fell within the period of lockdown and rather than thinking of clothing materials, every focus was on food and feeding.
How does it affect the standard of living?
Not only did it affect the standard of living but also transformed it; everyone has learnt that whatever is not necessary, you don't invest your time and resources in them. Most important and paramount thing was how to feed the family, clothing was out of the picture. By sheer coincidence, people learned economics and management of what they have. With the children not going to school, it was all about feeding and parents have time to study, observe and impart on their children.
What are the lessons people learnt during this period?
There were many lessons learned during the period, but it varies and depends on individuals. But, the most important is, having savings and not eating with ones whole ten fingers. There should always be separate savings for eventualities. When the situation arises, there will be something to fall back on, it may not be enough, but it will go a long way to alleviate the situation. With all the propaganda and noise about government palliatives that do not exist except in media and other noise arena.
How can the government assist businesses in this situation?
The best way government can assist businesses and alleviate business people's burden, especially small scale and medium enterprises (SMEs) to rise again and the economy to grow, is to at least minimize interest rates on loans, if they cannot give free interest loan.
Advice to the government and young people planning to go into business.
If the government is ready and serious to assist businesses and business people, they should go directly to the grassroots through the market men and women leaders, not through some politicians or government agents. With that, whatever assistance rendered will be able to go round and directly reach the people.
Young people venturing into textile or any other business should not be afraid or allow situations discourage them. They should not despise their little beginnings. They should have a mentor, someone they can submit to, who would guide and put them through. There are always challenges to champion every business to success. They should be determined and not fear. Moreover, they should not go into business with assumptions, but with knowledge and understanding of business they are venturing into and not into a business because they see someone making profit or prospering in that line.
What are your expectations after COVID -19 situation?
My earnest expectation after the COVID situation is for things to come back to normal and more dynamic to the best advantage of everyone's activities and business. The society should come alive, businesses pick up, social and essential activities begin and hope rises again. Then there will be more adventurous and entrepreneural spirit, job employment and gainful engagements. Government in all facets should deal with crime challenges arising from Covid -19 pandemic.