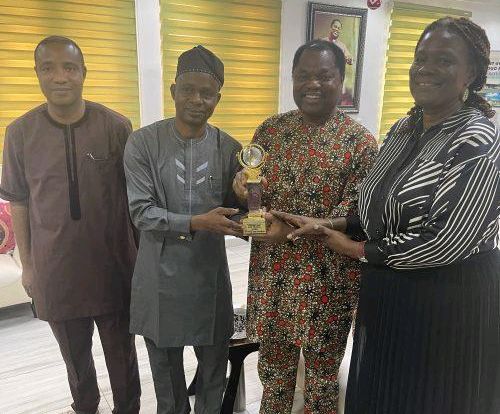 PFN Ikeja Province Honours CLAM's Pastor Wole Oladiyun 
The Ikeja Province of Lagos Pentecostal Fellowship of Nigeria (PFN) recently honoured and presented the Senior Pastor of the Christ Livingspring Apostolic Ministry (CLAM), Pastor Wole Oladiyun with three different awards in recognition of his consistent and immense contributions, support and encouragement to the propagation of the gospel within the province, in Lagos state, the nation in general and around the world. Also for his support and intervention to ministers of God welfare irrespective of their denomination.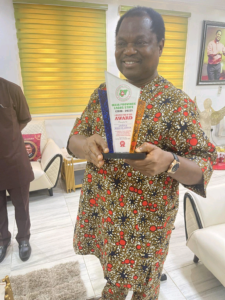 The awards presentation ceremony was held at Pastor Oladiyun's Omole church office during a thank you visit to his office by the Chairman of Ikeja Province of Lagos PFN, Pastor Temitope Ilesanmi and some members of the Province executive.
The "Helper in Time of Need Award" was presented to Pastor Oladiyun in appreciation of his contribution to the growth of the Christian faith, especially the Ikeja Province of the PFN. Pastor Ilesanmi recalled how Pastor Oladiyun donated N1m to the Province during the COVID-19 lockdown, adding that the money was shared among pastors in the province.
The "Soul Winning Machinery" Award was presented in appreciation of his landmark and pioneering efforts in taking the gospel of Jesus Christ to the nooks and crannies of Nigeria through CLAM Global Outreach – CLAMGO – the evangelism arm of CLAM.
In the past 20 years, CLAMGO has organised crusades and outreaches in remote villages and towns in most states of Nigeria, with the ministry solely funding the crusades since no offering is ever collected based on the instructions God gave Pastor Wole Oladiyun.
Also, the "Excellence in Evangelism and Outreach" Award was presented in recognition of CLAM and CLAMGO's exploits in winning souls in line with its vision which is "apostolic revival for global soul harvesting".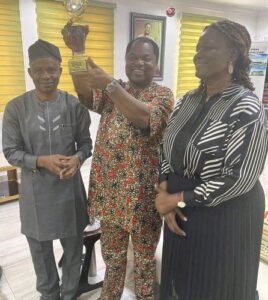 Presenting the awards, Pastor Ilesanmi said, "These awards speak volume of Pastor Oladiyun's outstanding qualities and role as a helper in times of need. During the COVID era, we were seeking assistance for indigent pastors. I was about to raise N60,000. A few days later, Apostle Wole Oladiyun sent N1m to me. We are sincerely grateful for your generosity".
In his response, Pastor Oladiyun thanked the PFN delegation for the recognition. He commended Pastor Ilesanmi for the "remarkable revolution he has brought to lkeja Province of PFN", adding that CLAM will continue to be consistent in meeting its obligations to PFN.