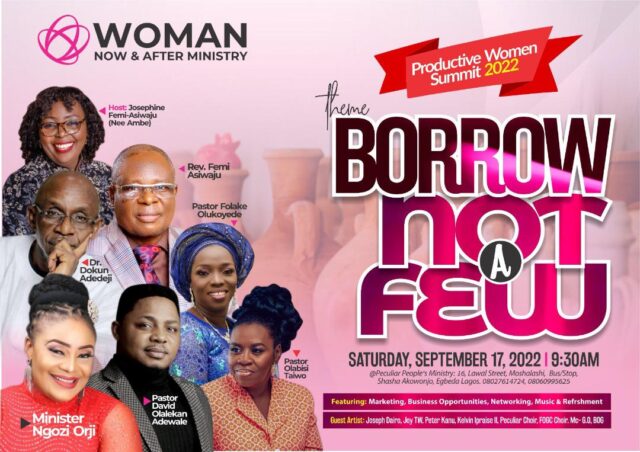 PERSONALITY PROFILE:
WOMAN 
NOW and AFTER MINISTRY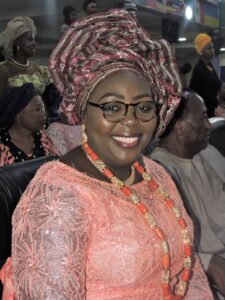 Josephine Femi-Asiwaju is a doctoral degree holder in clinical Spirituotherapy and Psychotheology. She is a chaplain and an internationally certified counselor. Proficient, confident and highly driven woman in the pursuit of women empowerment. 
She presently serves as Director of Planning and Strategies for Lagos State women wing of Pentecostal Fellowship of Nigeria (PFN).   
Trained as a social worker in Kaduna polytechnic, Josephine Femi-Asiwaju presides over the Woman Now and After (WNA). A non-profit organization that reaches out to women with the mandate to encourage, educate, equip and empower them to fulfill their God given role. Her pragmatism is beautifully blended with idealism of encouraging women to lean into their God-given power to make a difference. 
As a woman on a mission, she seeks the opportunity to identify and develop more women into greater capacity for productivity in modern times.
The Executive Director, Gem Gateau (a cake baking outfit), also a highly sought after conference speaker with the passion to see women rise up out of gender limitations, hosts the annual Productive Woman Summit in Lagos. The summit initiated in 2010 and has attracted thousands of participants who have been empowered, encouraged and exposed to take up life challenges.
Josephine Femi-Asiwaju is a  recipient of many awards, including the 2012 prestigious Impact Award as Inspiring Woman of the Year. 
She is an assistant pastor with a word based Church in Lagos, Word of Light Ministries, where she co-pastors with her husband. She is blessed with biological and spiritual children.
ABOUT WNA:
WOMAN NOW and AFTER (WNA) is a non-profit, faith-based purpose-driven  organization established in 2009 to help the woman; young and old, to identify her purpose and to fulfill it. 
For past years, Woman Now and After (WNA) has deployed different strategies and explored channels of initiatives to reach her goals and achieve her vision, and have witnessed the lives of women transformed positively. The initiatives include; Woman, Get A Life and Be Real Campaigns; the yearly Productive Woman Summit, God's Own Singles Conference (for single mothers and widows), and many others.
Although African society often socializes the woman to live a life of silence, Woman Now & After (WNA) believes that every woman is a unique creation of God with as much capacity as her male counterparts, created to achieve specific purposes. She is described in the Bible as a help and that underpins our philosophy that every woman has value to add to her world. The woman is a creation with potentials that must be harnessed and developed, and not to be lost in the shadow of motherhood, defective cultural propositions and mindsets. 
Also, WNA trains and equip women to manage the interruptions of life and not be defined and subdued by disconcerting experiences she could be treated to by life. We believe and reinforce the fact that victimhood is not a virtue.
WNA also serves as an umbrella organization for TAG (Train a Girl Campaign) and DO (Dorcas Heart Outreach). While TAG is responsible for the catching, training and mentoring of the girl-child through strategic schemes, DO reaches out to the less privileged, widows, sick people and derelicts with a hand of hope.
Major Events of WNA includes:
Praise Break (February)

God's Own Single (April)

The Productive Woman Summit

Train a Girl Campaign

DorcasHeart Outreach

Delightful Couples Forum (online

Home Realities with Josephine Irmiya

Feast of Sharing (For Widows)

Royal Diadem (online sharing and mentoring community for singles)
The WNA programmes and activities are Coordinated and Presided over by Pastor Josephine Femi-Asiwaju. She and her formidable like-minded Team, leading and serving people, have been committed to implementing the vision and mission of WNA from its inception. They have made commendable progress and look forward to doing more in the years to come.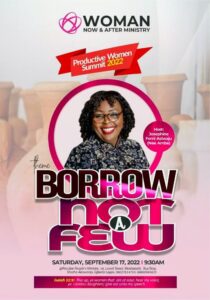 INVITATION:
Trusting that you and yours are doing greatly fine in the name of our Lord and Saviour Jesus Christ.
The Woman Now and After (WNA) Ministry, a faith based Non- Governmental Organization with the vision to touch/impact lives, particularly the female gender (Women). 
Our passion for women is fueled by the realization that Women are not created or meant to be burdens, instead they are innately blessed to be a blessing. As a result of this, we help women come out of any misconception they may have of who they are, particularly but not limited to, misconceptions propagated by harmful/unhelpful societal Norms, so she can live up to her GOD given potential. 
We therefore seek to Encourage, Educate, Empower and Equip women to not be controlled by their situation but to define their lives and use whatever situation they found themselves in, to be who God wants them to be. And, one of the ways we achieve the vision is through our Annual Productive Women Summit. 
It is therefore our singular honour to invite you to the 12th edition of Productive Woman Summit with following details:
Theme: Borrow Not a Few 
Date: 17th September 2022  
Venue: Peculiar People's Ministry 
16, Lawal St, Moshalashi Bus/stop Shasha, Lagos.
Guest Speakers: Pastor (Mrs.) Olabisi Taiwo, Pastor (Mrs.) Folake Olukoyede, Minister Ngozi Orji, Dr. Dokun Adedeji & Pastor David Adewale
Time: 9:30am
We sincerely hope you are able to accommodate the Summit in your schedule and plan, as I am personally looking forward to seeing you and the women/Men in your organization as participants, hence Productive is not gender based.
Your prayers and presence will make the Summit a huge success. 
God bless you
Josephine Femi-Asiwaju
President, WNA
08164635329, 09037617413
infowna@gmail.com