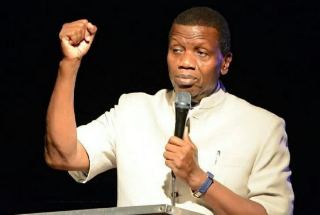 Pastor Adeboye Releases Curses On Enemies of Nigeria
Following last Sunday thanksgiving service, the G.O. of R.C.C.G, Pastor Enoch Adeboye has released powerful curses on the enemies of Nigeria.
In his message, "Let the God arise", quoting from the book of Psalm 68, Exodus14: 1-14, Judge 14:1-6, and Samuel 17.
He said, when God arises, stagnation comes to an end, He makes a way where there is no way and when God arises, it doesn't matter who may be the stumbling block or set the blockage, they will be terrified and drove away.
Recalling an experience, Pastor Adeboye said, "I remember some years ago I traveled down to Kano state to visit a friend, we visited a zoo and saw a Lion inside a strong iron cage. Whenever he approaches all Pastors, general overseers and everyone moved back.
Everyone was scared because Lion can choke one to death, because he belongs to the family of chokers. He then declared, "Every Lion choking Nigeria, choking Nigerians with hunger, choking Nigeria with poverty should be destroyed".
When you see fake friends like nations claiming to be friends, rejoicing when there is a problem for a nation they befriend so that they can loan out, sell weapons to destroy your citizens, "all enemies of Nigeria pretending as friends, the Lord should destroy them. Every terrorist and their sponsors shall not see the new year." He prayed.