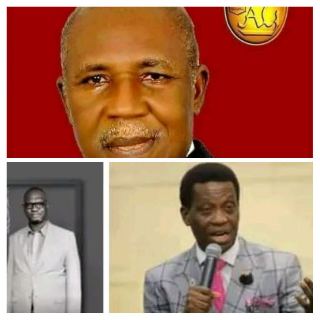 Nigerian Pentecostal Family Mourns
…..
in one week 2 leading church leaders loses sons, another leader passes on
When it comes to death, we are all equal, no debates, no arguments, when it's your time you must oblige. Life is a school, we keep learning until we die, no one is insured from the happenings of life, not a single one of us is immune from life's troubles or sorrows.
God is sovereign hence we are not allowed to put our trust in man, only God must remain the source of our faith and trust. As great as men are, the best of man is only but a man, flesh and blood. -Dr. Sunday Adelaja
Within a week, the Nigerian Pentecostal Family was thrown into a mourning mood with the news of two revered, most respected and oldest Pentecostal leaders in Nigeria respectively losing their sons.
Pastor E. A Adeboye, the General Overseer of RCCG and Pastor E.O. Abina, the General Overseer of Gospel Faith Mission International (Gofamint), lost their sons, Pastor Dare Adeboye and Pastor Emmanuel Abina to death. 
The two young men who were ministers at the churches their parents oversee passed on relatively at their places of service.
While Pastor Dare Adeboye reportedly passed on at Eket, Cross Rivers State as Assistant Pastor in the South South region of RCCG, Pastor Emmanuel Abina passed on in Abuja as the Pastor of Gofamint Church Abuja.
Meanwhile, at the same week, the death of Rev. Charles Osueke, former General Superintendent of Assemblies of God Church was announced.
According to information available to Providence, Rev. Charles Osueke passed on at the age of 79.
The late God's general led the church gloriously as General Superintendent for 22 years before he retired in 2010.
He reportedly passed away peacefully at his Enugu State home after his usual night devotion before going to bed but passed on later as he could not make it in the morning. 
Some of his major achievements as the General Superintendent of Assemblies of God Nigeria include the launch of the Decade of Harvest which resulted in great missionary exploits and revival across Nigeria, Evangel University, Evangel Camp Okpoto, Peniel annual convention of the church, among others.
Late Rev. Osueke is survived by his wife, Rev. Mrs Blessing Osueke, three children and many grandchildren.
The late Osueke was born on May 31, 1942 and hailed from Umuomumu, Mbieri, Mbaitolu in Imo State.
This is the best time to show love and respect to these revered families of God and fathers of faith by lifting them up in prayers at this very trying time. They need all the support they can get and it is our responsibility to uphold them in our prayers. 
May the souls of the departed love ones Rest In Peace and may the Lord comfort and strengthen the families and the ministries they left behind.