Marital Success For Women:
20 WAYS TO FLIRT WITH YOUR HUSBAND
By Gracious Akintayo
Study shows, women tend to flirt with their partners when dating and when in a relationship. Surprisingly, after getting married, they forget about flirting with the same man as their husband.
Flirting with your husband is good and will help your marriage more than you can imagine. Many couples start acting too seriously once they get married and forget about flirting.
Flirting with your man shouldn't stop on your wedding day, or years after marriage. It should continue to be fun and romantic till lifetime.
When you stop flirting with your husband, you take away certain things from the marriage. 
But following tips can be of help on how to go about it.
Wake him up with a kiss. He may not tell you he wants it, but it makes him happy. Also, give him a 10 second kiss when he least expects it. This will stir him to take the kiss further.

Take your husband out on a date. Surprise him with this and when you take him out, let the bills be on you. Don't let him pay for anything.

When he least expects it, bring him hot tea in bed and surprise him with his favorite breakfast. It works! He'll be surprised at you.

Be your romantic self and prepare a candlelight dinner just for the two of you to celebrate being married to him. 

Sometimes, smile and wink at him for just no reason. Also, let him loose your pantie or bra for you; it will turn him on.

Once a while, try to DANCE for your husband or hold him up for a surprise dance with him. He will be interested and may switch off his phone and glued his eyes on you.

Compliment him; let him know when he's looking hot and good. It will boost his ego and make him want you more.

Offer to bath your husband. 
You don't have an issue with this, neither himself. He might be shy, since you rarely do that to each other, but you can start and it becomes fun with him for a long time. Don't bathe your spouse only when he is sick.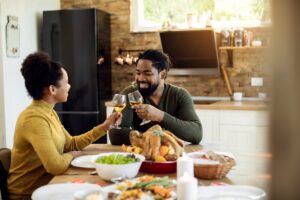 Look attractive when going out with him. Fact that people admire you makes him value you more and a naughty message from you when he's away can give him blood rush.

Be your playful self when you are out with him. It makes him feel alive and friendly with you when he sees you in that mood.

Sometimes all you need for bedtime may be a cold bath, a nice nightie and a little scent. That does the trick.

Look hot and attractive for him even when indoors and alone with him. Care about your appearance when you are home with him. Men are attractive to what they see.

Surprise him with something that would thrill him and make him smile alone and always have jokes that will make both of you laugh and tease each other.

Don't forget the power of touch. Touching a certain part of his body for some minute may be all you need to stir him up.

Warm up to him when you're both together; cuddle, lie on his laps or no chest and maintain physical contact.

Take a shower with him. This is romantic and leaves him with a positive impression about you.

After a tiring day at work, welcome and receive him with a hug, a kiss, a good meal and a massage. These are the best treats you can give him.

Text Him! He might have just left the house a couple of minutes ago. Text and tell him how much you're already missing him. He will definitely consider returning back in time.

Even when the children are there, give him the due attention and make him feel wanted as your husband and the king in the palace.

Say sweet words to him. Call him sweet pet names and appreciate some good things he has done for you.
Your marriage will not fail in Jesus name