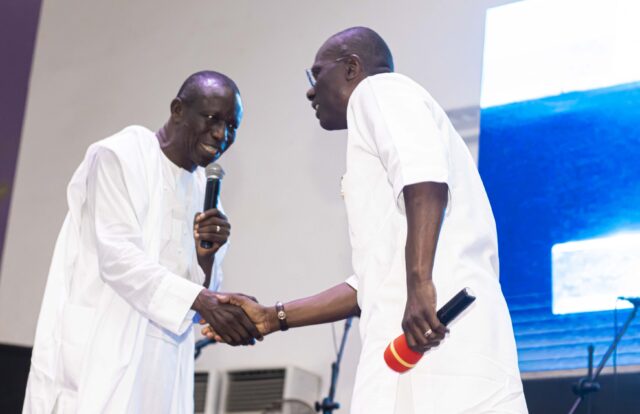 Lagos Governor, Sanwo-Olu Attends the State PFN "Greater Nigeria Project", …call for Rededication, as PFN President, Bishop Wale Oke declares, Nigeria will break forth in righteousness
The Lagos State Pentecostal Fellowship of Nigeria (PFN) Greater Nigeria Project themed; New Dawn, Revival and Transformation held at Vineyard Christian Ministries and organised to formally received the National President of the association, Bishop Francis Wale Oke on his Apostolic Visit to the state was remarkable with large turnout and participation of gospel ministers, church leaders and Christian workers across pentecostal churches in the state who graciously filled the expanse auditorium and fully occupied the extension hall.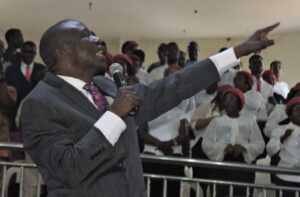 Lagos State Governor, Mr. Babajide Olusola Sanwo-Olu who was at the conference as special guest of honour, in his goodwill message, called on Christian leaders in the state to rededicate themselves as agents of change for a greater Nigeria.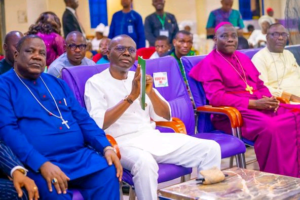 While congratulating the leadership of the State PFN for the well packaged and attended conference, the governor saluted their dedication and commitment for organising the annual event, the 5th in the series. It is our prayer that the Almighty God in His infinite mercies will keep every one of us to witness many more of this in future. He also prayed that at the end of this year's edition, we will be able to look back and say, "it is the beginning of something new and a transformation for ourselves and for our country Nigeria".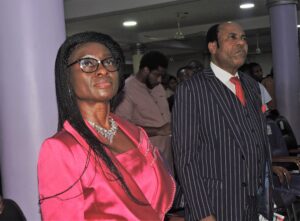 "I am delighted to join the national president of the Pentecostal Fellowship of Nigeria His Eminence Bishop Francis Wale Oke, and other eminent ministers of God present here with us today for the 5th edition of Greater Nigeria Project aimed at reviving and strengthening the Pentecostal body and for more effective roles for the end time".
"It is my firm belief that the prayers of this gathering of anointed men and women of God, accomplished ministers of God will bring the desired transformational intervention of God in the affairs of our great nation", he said.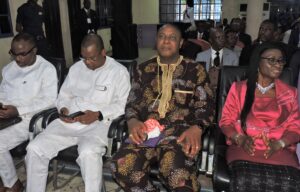 Speaking on the conference theme, Sanwo-Olu quoted Psalm 127:1 and declared that, "The conference theme is timely and significant for a nation like ours at this time when it is seeking for true greatness and we must continue to press further in the face of many challenges towards the greatness our nation is known for, and we must never be ashamed to seek divine help".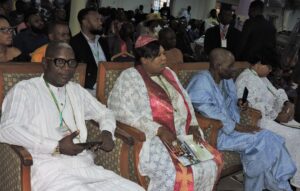 "As important as our work from various sectors and walks of life as nation builders is, we must always acknowledge the position of Almighty God in bringing blessings and great impacts to our works, otherwise all of effort will be in vain and the new dawn expectation by the nation will not happen by human labour, strives or wisdom alone."
Further quoting from Isaiah 43.19, Governor Sanwo-Olu assured that the Lord would do a new thing in Nigeria, and opined that before the promise comes to pass, Nigerians must also prepare to rededicate themselves to the new vision and aspiration.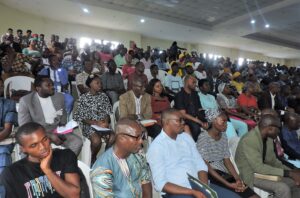 "Before we can enjoy the manifestation of this newness, we must be renewed and transformed completely by fully rededicating ourselves as agents of change for a greater Nigeria and a national change that we seek must begin inside each and every one of us. A transformed Nigeria will not happen without transformed Nigerians", he said.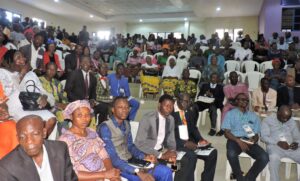 Governor Sanwo-Olu used the conference to give account of his stewardship and progress in various parts of the state, stating that, "in Lagos, God has asked us to use this position responsibly to change lives, be able to connect to the heavenlies and change the course of man, also to be able to have critical and meaningful developments in all nooks and crannies of our state so that people can hold us accountable and see how well we have used the opportunity".
Assuring the conference participants, Sanwo-Olu said, "as a government and as a child of God, who understands and appreciates the importance of God giving us this position, I can assure you, I will never abuse it, I will never misuse it, I will ensure that the greatest good is for the greatest number. I will ensure that whatever is due to A would never be given to B. I will ensure that there are level playing grounds for all and sundry".
Sanwo-Olu appreciated the leadership of Lagos PFN for extending the invitation to him to address the conference and thanked the Lagos Christian community for their constant support and prayers. "The successes and progress Lagos is enjoying is due to prayers and intercessions on our behalf with your generous wisdom and counsel at all times", he said. 
On 2023 election, Governor Sanwo-Olu asked for more prayers, he said, I covet for more prayers as we move towards the general elections in 2023 and plead with you to use your pulpit and influence to enlighten members of your various congregation about the importance of taking part in our nation electoral process, assessing the various candidates and their manifestos, going out to vote for credible and competent candidates and holding them accountable to those in authority".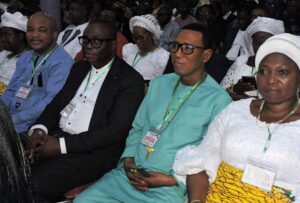 As children of God we have a civil obligation and responsibility just as important as the spiritual commandment and principles. We can say, civic participation in an election is also a spiritual duty. 
He called on clerics and Christian leaders in the state to also call on their congregation, to educate the people on the importance of shunning violence during this period.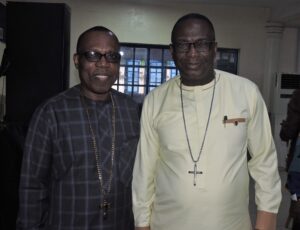 "People never believed we were able to turn things around, but began to see the greatness of God in our state.
"I want to appeal to you because I know there is construction in almost all parts of the state, it is what you deserve, as we are doing in Ikorodu, we are doing in Epe, we are doing in Ikorodu, we are doing in Amuwo, and we are doing in Ikeja, in Badagry, and Victoria Island, Ikoyi, and Ajao Estate here, and in all nooks and crannies of the state. I promise, I will continue to serve you with every fiber in my body."
Meanwhile, in his charge, the guest of honour and Chairman, Lagos State Christian Association of Nigeria (CAN), Bishop Stephen Adegbite said, Christians should be smart enough and shine their eyes not to be cajole, they should guide their heart diligently to avoid enemies strategies to penetrate into their lives. "We are one in the Lord, we must be together. We must unite for a greater Nigeria and Nigeria will be great again". 
Despite its cosmopolitan nature, irrespective of differences, Christianity in Lagos State is a family affair. The unity, love and oneness enjoyed among Christians in Lagos with related peace is unequal".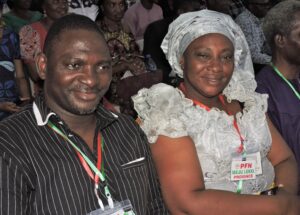 "We know what is going on in Nigeria and can't afford to get it wrong in 2023. There must be a new dawn. We must work together to make a change and not give in to deception. Elections are not counted online. Vote and vote rightly, anybody who becomes the next president of Nigeria must be ready to be accountable", he advised.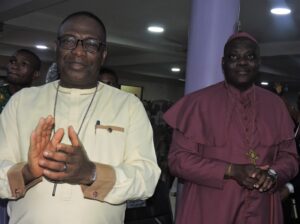 Adegbite thanked the Governor for his support and encouragement to christian activities in Lagos State and assured him christians and Christian leaders in Lagos will continue to offer their moral support and back his administration with fervent prayers.
In his Apostolic Visit address at the conference, the National President of Pentecostal Fellowship of Nigeria (PFN), Bishop Francis Wale Oke speaking ahead of the 2023 General Elections, declared that, he has vowed not to sell his office and he will not endorse any of the three leading contestants in the 2023 Presidential election.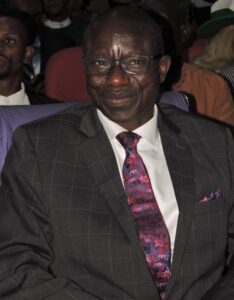 Bishop Wale Oke said he has been under tremendous pressure in the last couple of days, warned hundreds of the Pentecostal ministers and other christians at the conference and in Nigeria not to sell their vote, also appealed to Nigerians to use their permanent voters' card (PVC) wisely.
"No politician can buy my conscience and no amount of money you bring can buy me. Bring 50 million dollars, I will tell you, my office is not for sale. Your money perishes with you", he said.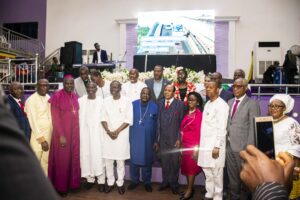 To the ministers, he warned, "you will be betraying God, your calling and the fellowship if you sell your vote and allow pecuniary gain to determine who you vote for. It will be ungodly for you to sell your vote," he charged.
"We are in a difficult and troubled situation in the country and I believe you all have the spirit of God, I will not tell you who to vote for. It was not my duty to tell you who to cast your vote for, but bear it in mind that, when you sell your vote, you have sold your future and that of your generations. Of all the three major political parties I can't really tell who will deliver. Since you have the spirit of God, go and ask God and vote as you are being led, vote your conscience", Bishop Oke declared.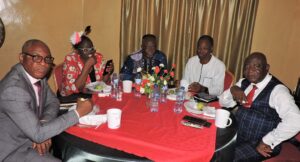 Bishop Oke expressed optimism about the future of Nigeria as a great and glorious nation as he prophesy, saying, "despite all manners of challenges surrounding us as a country, there is light at the end of the tunnel. The tide will turn in favour of Nigeria. Nigeria will break forth in righteousness and shall no more be forsaken. It shall be a crown of glory in the hand of the Lord and will be known for righteousness and salvation".
In his remarks, the conference host and Lagos State PFN chairman, Apostle Enyinanya Okwuonu said, the event was imperative for the church to function effectively. "The church needs to function spiritually and socially. It is not business as usual for the church. God is into a new thing."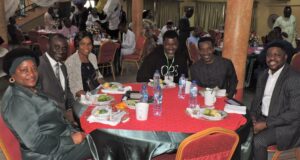 He called on the church to brace up for the next move of God and warned that, "the church can't afford to continue in its old way to function". "Things have changed. If we get it right in Lagos, we will get it right in Nigeria", he declared.
Other activities at the one day conference that feature sessions of teachings, prayers, worship, musical concert and celebration of legacies, include official unveiling of "Greater Nigeria Project" and the presentation of special gift to the Lagos State Governor, Babajide Sanwo-Olu and his wife by the State PFN Chairman, Apostle Enyinanya Okwuonu, he received the gifts with admiration. Also, the State CAN Chairman, Bishop Stephen Adegbite was presented with a gift.
Among the speakers during the conference are, Deputy National President of PFN, Bishop John Praise, the Deputy National Secretary, Pastor David Bakare (from Kaduna), Vice President, PFN South West Zone, Archbishop John Osa-Oni, Pastor Goodman Akinlabi of Elevation House, Pastor Yemi Davids, Gen. Secretary, PFN South West Zone, Rev. Toyin Kehinde, Lagos State PFN Secretary, Apostle Akinyele Akindejoye, Dr. Eric Ighalo and many others.