James Olukayode to Ministers of God: Do Not Relent in Your Spiritual Growth
Faith Partners Ministers Forum with Fellowship of Saints Ministerial Association had a one day ministers and workers conference, themed, "Power of Unity".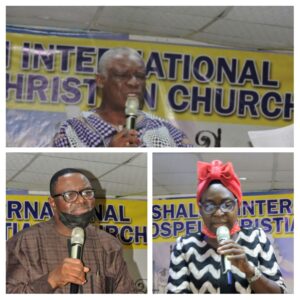 The conference held at Shalom International Christian Church, Gbagada, Lagos and had a large turnout of participants from different church denominations was organised to empower, enlighten and to equip church leaders and workers, especially at this end-time.
Seasoned conference speakers and widely experienced church leaders were at the one day conference to share their experiences and knowledge as guest speakers.
Highlight of topics treated during the conference includes, Signs of Endtime, Keys to Revival, Great Commission and Discipleship; Marriage and Ministry, and Power to Fulfill were delivered by Dr. Daniel Ifeagwu, Rev. Tunde Elebute, Pastor Isaac Adetoye, Bishop Wale Adekoya, Rev. Dr. Joseph Ayodele (who mark his 72 years birthday and 50 years blissful marriage at the conference) and Pastor Femi Bajomo of Lapis Lazuli Ministries.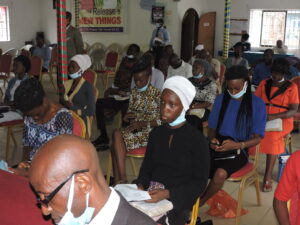 Among others, the conference emphasized that; there are many preachers, but less teachers to teach people. Many churches pull crowds and become popular, but they are not making disciples and without discipleship, there cannot be transformation of the people.
The conference further held that, success in a ministry is not the same as fulfilling God's purpose and to attain God's purpose, God's requirements must be pursued. While teaching that, marriage is not a necessary evil, but an ordained union that must be enjoyed in fellowship, friendship, mentorship and partnership. Until a minister has a home, he doesn't have a ministry and a man without a united goal at home, cannot achieve his ministerial goal.
In his remark, the convener of the conference and President of Faith Partners Ministerial Forum, Apostle James Olukayode said, the goal of the conference is to sensitise and equip ministers of the gospel and church workers to be alert in the spirit at this period of Endtime crisis. He enjoined ministers of the gospel and church workers not to relent in their spiritual life development and growth.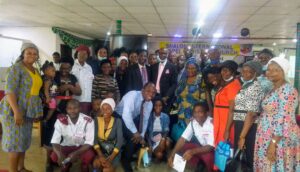 Other activities at the conference were soul lifting and fervent prayers for Nigeria's unity and peace, Nigerian churches, ministers of the gospel, Lagos State and the harvest of souls.