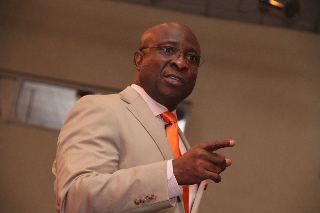 How Not To Miss A Miracle –Iruofagha James
The founding pastor and general overseer of Glory Christian Ministries, Pastor Iruofagha James has used the period of COVID -19 and the attending situation to admonished and encouraged christians How Not To Miss A Miracle.
Speaking on the topic and quoting extensively from the scriptures, using 2Kings 5: 1-15 with reference to Ecclesises 7:9 as text, he said, God is the Father of all and Lover of all, no matter where we are from or any situation we found ourselves. God loves us irrespective of who we are.
Describing God personality as, kind, good, generous, compassionate, merciful and many more, but to mentioned few. He explained, God is always will's and able to help us out of any situation, if we are willing and ready.
Citing the example of Naaman, the captain of the host of the king of Syria, a great man with his master and honourable, because by him the LORD had given deliverance unto Syria; he was also a might man of Valor, but was a leper; who almost missed his miracle as a result of pride, misconception, prejudice and anger.
Pastor James admonished that in the present situation of COVID -19 pendemic, God is alive, working and doing miracle, christians should not allow their position, entitlement and achievements entered into head with wrong mindset to approach God.
He challenged christians to do away with arrogance, anger and rage that will make them think, see and act wrongly. But they should be humble, free and open with readiness in their heart when coming before God. "God doesn't like anger, he warned, quoting from Ecclesiastes 7:9, that says, "Be not hasty in thy Spirit to be angry; for anger resteth in the bosom of fools", he advised.
Explaining the positive side about Naaman, James gave reasons Naaman did not miss his miracle and healing due to his willingness to listen, quick to take correction and being grateful. It is good to surround yourself with wise and good or caring people, noting that success does not equal intelligence.
"Quick in taking correction is not a weakness, but a virtue and being remorseful is not enough to save or help the situation. It is only true repentance that can save the situation", he said.
Pastor James added, "it is good and proper to follow through what God has in store for you". This is what played out in the life Naaman when he returned to the man of God and said, "behold, now I know that there is no God in all the earth, but in Isreal; now therefore I pray thee, take a blessing of thy servant". He was very grateful for what God has done for him, even when God doesn't require our gratitude as a precondition for His blessing on us.
He called on christians to always look at the positive side of every situation, act with obedient and humility without focussing on the negative side, which may denied getting the positive result.
Pastor James prayed against forces of negativity, distractions and arrogance that may be standing or lurking around every Christian from accessing their God given purpose and plan in any situation.