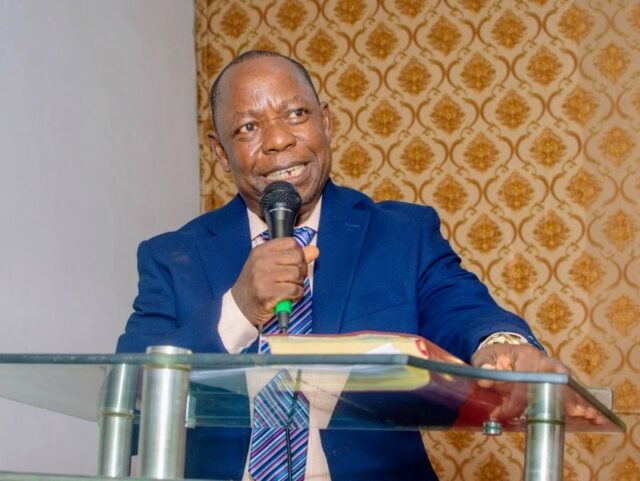 God's Ability Awaits Nigerians
-Pastor
Tokede
Christ Power Pentecostal Assembly (CPPA), Iju-Ishaga area of Lagos begins their 2021 annual convention with the theme, "This Able God". 
Welcoming members, delegates and participants to the one week convention that started on Sunday, the General Overseer of the assembly, Pastor Kayode Tokede said, the theme was taking from Ephesians 3:20, "Now unto him that is able to do exceedingly abundantly above all that we ask or think, according to the power that worketh in us". Defining "able" as a power by virtue of inherent ability and resources that has sufficient or necessary power, means, skill, or resources to accomplish an objective. Therefore, God is very much able to exceed human expectations, and to do exceedingly above all humanly impossible we can ask or imagine. "God has the power and the ability to do all that we ask of Him or imagine Him doing", he said.
He enjoined the people to be bold and courageous in their prayers, bringing what is considered to be most impossible to God. "Let us be bold to bring all our wildest dreams to God for there is no danger in exhausting God's ability to answer. His power and ability are beyond all that we can ever ask. He is able to do what is beyond the bounds of possibility and seems unattainable", he added. 
While stating the categories defining the ability of God, Tokede quoting from the scriptures, said, God is Sovereign and nothing is too hard for Him to do. No one can stop His plan, because He made all things and does whatever He pleases without questioning.
Naturally, we limit the eternal and absolute power of God to our level of understanding, concept and imagination when God's power is far beyond our level. Based on God's character, there are things He cannot do; He cannot deny Himself, lie, be tempted to evil or change His nature neither will He act contrary to His own righteousness and holiness, he explained. 
The convention planned and packaged to activate participants faith and lighten their walk with God as a new creation, features open air crusade at the church prayer camp, youth rally, skill acquisition, couple's seminar, variety night, free medical outreach and thanksgiving; is expected to make people experience and encounter the ability of God to save, heal and deliver at any point of situation and circumstances. 
Pastor Tokede charged participants and delegates to take the outlined programme and activities for soul lifting and spiritual growth in the ability of God.
He admonished Nigerians, especially Christians not to stop praying and interceding for the peace, progress and stability of the country. There is nothing beyond the ability of God for us, if as a nation we can acknowledge the Sovereignty of His power rather than pursuing our own sovereign power already designed to endanger our lives. God's ability to give us Jesus to take the place of our troubles for our peace, to die for our sin for our salvation, and went through suffering and trials to make us become strong, then, His ability to subdue all the killings, banditry, kidnapping, communal wars, rituals and other crime threatening the peace and unity of our dear country is available for us. If we can acknowledge it.
Using examples of Daniel and the three Hebrew children who despite their deadly situations and circumstances, stood their ground on the ability of God to  deliver them. Tokede said, "the devil will always scare us with the fiery furnace, threatening that we will get burnt. But if we take our stand in the ability of God, we will be delivered to experience turnaround and stability in our nation".
"God can change the bad to be the best and make the worst to be wonderful", he added.
"The ultimate measure of a man is not where he stands in moments of comfort and convenience, but where he stands at times of challenge and controversy", Tokede said.  
Other ministers and guest ministers during the convention include, Rev. Emmanuel Echioda, Pastor Olusegun Hassan, Pastor Robinson Uche, Chaplain Ebenezer Oluyemi, Dr. Victor Ogunne and others men of God, while the CPPA Glorious Choir and Evang. Rebecca Oyelade will minister in songs.