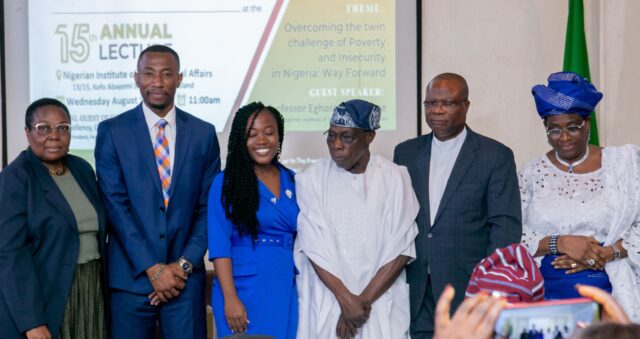 First Posthumous and 15th WBF Lecture Award Scholarship to 30 Students 
…
we must make the right choice in 2023, Obasanjo urge Nigerians
At a time when most visions either wind up or are forgotten after the demise of the founder, the case became different with Wilson Badejo Foundation (WBF) founded and first chaired by a former General Overseer of Foursquare Gospel Church Nigeria, Late, Rev. Dr. Wilson Adebogun Badejo who passed on to glory on Saturday 7 August, 2021.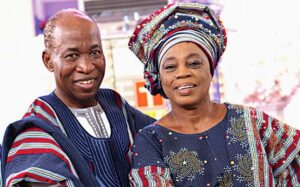 One year after his demise, members of the foundation BOT with the current chairman, Dr. Osaren Emokpae decided to continue where the late founder and visioner, Rev. Dr. Wilson Badejo left it with the annual public lecture and other functions, such as giving scholarships to indigent, but brilliant students from different higher institutions of learning.
The personality of late Rev. Badejo cannot be easily forgotten in the lives and endeavours of many he has spiritually impacted, mentored, ministered to and supported to a higher height in life. He was regarded as the father of modern growth of Foursquare Gospel Church Nigeria, a revered Nigerian Christian leader, spiritual leader, mentor and pathfinder to many who are privileged to have close affinity with him.
As a preacher, pastor and opinion molder, he is down to earth and speaks to rebuke, correct, soothe, comfort and encourage without blinking. With these qualities he was able to managed the affairs of Foursquare Gospel Church Nigeria as the General Overseer of Foursquare Gospel Church Nigeria for 10 years and at the end of his tenure, to further his passion for soul winning, evangelical outreach, kingdom mission and lives impartation, he founded a non governmental organization, Wilson Badejo Foundation (WBF) to enable him continue when he retired as general overseer.
Without aotha of doubt, it is on record that the tenure of Rev. Dr. Badejo as G.O ushered in remarkable spiritual, human, mission and resourceful progress, development and growth in all facets of the Foursquare Gospel Church Nigeria which positioned the church as one of the topmost spiritually based and fastest growing pentecostal churches in Nigeria.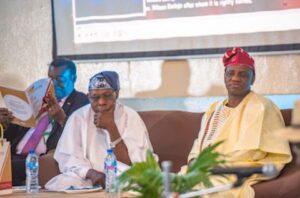 At the well attended 1st posthumous and 15th Annual WBF Lecture held at the Nigeria Institute of International Affairs (NIIA), Lagos with the theme, "Overcoming the challenges of Poverty and Insecurity in Nigeria: Way Forward", that attracted public figures, top dignitaries, academicians and the general public, including the former President of Nigeria, Chief Olusegun Obasanjo, GCFR whose presence and participation as the special guest of honour and father of the day played an important role. Also, with the current General Overseer of Foursquare Gospel Church Nigeria, Rev. Sam Aboyeji as Chairman of the day speaks how his legacies of development remain indelible to the church and human race and for the Director General, Nigeria Institute of International Affairs (NIIA), Prof. Eghosa Osaghae as the guest speaker and lecturer of the day raised the bar for the future of Rev. Badejo's WBF legacy.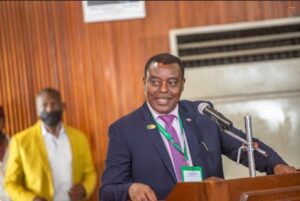 Addressing the audience at the lecture, former president, Chief Olusegun Obasanjo went down memory lane, paid glowing tributes and gave an account of his encounter with the late Rev. Dr. Wilson Adebogun Badejo who thought ahead of a better future and in his spiritual wisdom with foresight, he established a foundation with all legacy that continues what he started and championed while alive.
Obasanjo, also commended the Board of Trustees (BOT) of WBF, the spiritual and biological children of late Rev. Dr. Wilson & Rev. (Mrs.) Yinka Badejo who deemed it honour and made it possible for the legacy to continue carrying out the functions and activities of WBF.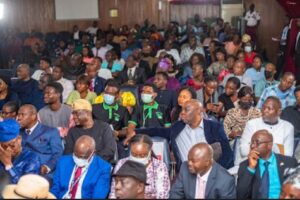 Speaking on the lecture theme, Obasanjo said, "Nigeria has not taken its rightful position because of poverty and insecurity and Nigeria is not where it is supposed to be today. If anyone says it is ok where we are at the moment, then the person's head needs to be examined".
"My friend, the late Ahmed Joda, used to tell me that God has given us everything a nation needs and there's no need for prayers because if God has given you everything and you squandered it, then something is wrong.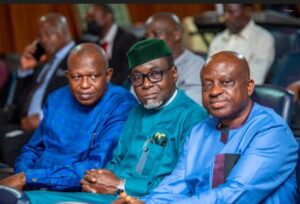 "I told him that even at that, we still need prayers as a nation because what is good needs prayers and on the other side too, we still need more prayers."
He urged Nigerians to make the right choice during the 2023 general elections and warned that making the wrong choice in the 2023 election may consume the country.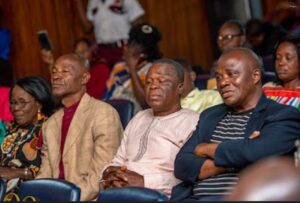 According to the former President, "it is better we make the right choice in 2023 because if we make the right choice, we will get there.
"However, if we do not make the right choice in 2023, things would consume us and we pray against that one. We must make the right choice in 2023," Obasanjo said.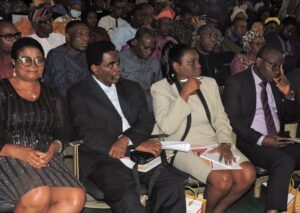 He advised Nigerians not to give up praying for Nigeria, but consider it as one of the most important strategies needed for the tide to turn in the favour of the country.
Delivering his lecture, titled, 'Overcoming the twin challenges of poverty and insecurity in Nigeria,' the DG of NIIA and Guest Speaker, Professor Eghosa Osaghae, delved on the need for a more diversified approach in bringing positive changes in Nigeria.
He further explained that, "when one's country fails the individual, that individual becomes a failure."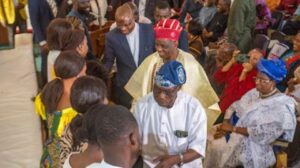 He added that, "poverty cannot divide us as a people, instead it binds us. But, what divides us is corruption. If you observe the street protests across the world, it is done by the poor.
"Corruption, by whatever means, is what causes division.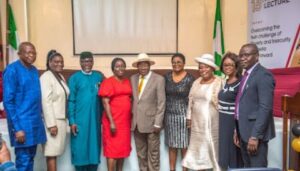 "Many people today dig their boreholes for water, then employ private security units, etc, to guide it. Yet, these are things that the state should have provided and put in place for the people. Because, it is the duty of the state to provide these amenities for the common good of all."
Meanwhile, in his welcome address, the chairman of WBF, Dr. Osaren Emokpae stated that, the vision of the foundation is to integrate as much as possible, the less privileged in our society into the nation's economic system in a bid to reduce poverty in the country and ensure that, as much as possible, no Nigerian citizen is shut out of the nation's economic system, sleeps hungry without a meal a day due to economic disadvantage and empower.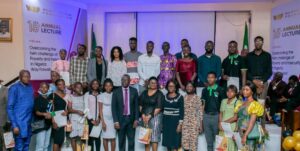 The foundation discovered and awarded scholarship to young Nigerian 30 indigent students from different tertiary institutions of learning across the country including students from the university of Ibadan, Lagos State University of Science and Technology (formerly LASPOTECH), Olabisi Onabanjo University (OOU), Ogun State, University of Lagos (Unilag), Abia State University (ASU), Lagos State University (LASU), Federal University Oye-Ekiti (FUOYE), University of Nigeria, Nsukka, (UNN), Yaba College of Technology (Yabatech), Life Theological Seminary (LTS), Tai Solarin University of Education (TASUED), Adeniran Ogunsanya College of Education (AOCE), Ambrose Alli University (AAU), Ekiti State University (ESU), Bamidele Olumilua University of Education & Technology, (BOUET), Ikere-Ekiti, Federal University of Technology (FUT), Minna and West Africa Theological Seminary (WATS).