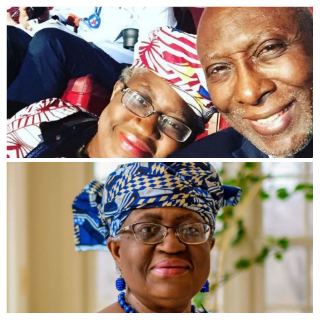 Extolling Virtues of Okonjo-Iweala "Buying Over" Her Husband …..celebrating his stern qualities  By Gracious Akintayo
Every wise woman builds her house, but the foolish one tears it down with her own hands."
Proverbs 14:1 (Amplified)
The world turned away from the huss and buzz that becomes global distraction, including Covid -19 vaccine, socioeconomic chaos and insecurity outcries; to focus on a single personality who by privileged and grace she had became global attraction and celebrity. An enigma, icon and leader as a result of her appointment as the first black and woman Director General of World Trade Organisation (WTO)
It is a lifetime feat, achievement and career fulfilment anyone would aspire, desire and work hard to achieve and attain.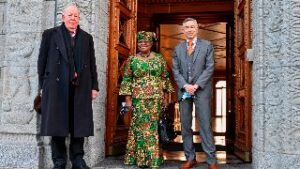 How Dr. (Mrs.) Ngozi Okonjo-Iweala, the new Director-General of World Trade Organization (WTO) was able to manage her life affairs as a career woman, wife and mother without any reported controversy, blemish or scandal both at home front, in public service and private life to become a globally acknowledged and respected woman remains indelible.
What she did to keep and protect her home, husband and family from unecessary crisis is remarkable and very rare, especially among today's women, not up to her status who would have fed the public through social media the happenings in her home.
Her act of humility, submission and respect for her husband, marriage and home in the face of confusions, must have propelled the husband of 42 years to further respect, appreciate and encourage her with all required support and understanding to progress.
Recalling the incidence and story of
her medical doctor husband, Dr. Ikemba Iweala, a neurosurgeon while working with an American hospital and had a face-off with a Ghanaian nurse.
The nurse and her boyfriend set him up and had his nude pictures with the Ghanaian nurse and started blackmailing him with extortion of money running into thousands of dollars.
Ngozi became troubled and queried the husband about the unusual behaviours and withdrawals, which the husband was giving false excuses.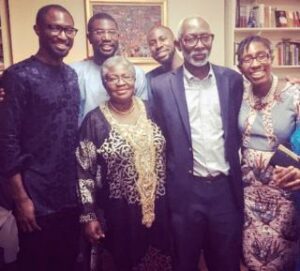 As expected, rather than creating home crisis, engage the counsel and advise of families, friends, praise singers and bootlickers sorrounding her to deal with the husband. She did the abnormal by engaging a private investigator to unravel the mystery behind her husband unusual behaviour and activities.
After thorough investigations, the private investigator came up with fact finding reports and pictures as evidence.
Normally, at that point, as an African and a Nigerian woman she is, in her capacity with all resources and connections at her disposal, she would have attracted public sympathy with media outcry and turned her home into a public cinema house or theatre hall where the public want to know or hear the next scene. She would have pull the string to declare marital war against the husband and begin the process of divorce or separation.
Rather, with wisdom, understanding and maturity, Ngozi protect her home, husband, career, family and children future. She seated her husband to discuss the matter with proven evidence and told him the game was over.
She emboldened and encouraged her husband advising that, the matter be reported to the police for proper investigation and prosecution, which was the later the case.
She went extra mile, calling press conference and told the press the stories of all that happens.
At this point, the story having been told by the victims. It was no longer a news and no press was able to make any scandal or report of the matter.
The Ghanaian nurse and her boyfriend are currently serving their 20 year jail term after the matter was reported to the police and proper investigation carried out, they were charged to court and the law take it's course.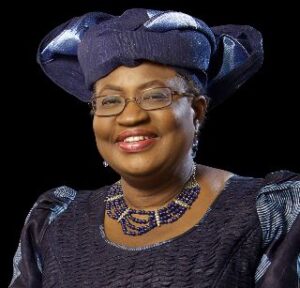 She is a gem, model, inspiration, leader and exemplary woman of godly virtue with wisdom; whose husband, children and household will forever respect, honoured and celebrated for ensuring the protection of her husband, home and career with establishment of building a good legacy.
As the Bible speaks of such woman, Ngozi is a woman of virtue and character who is flying higher in her career, dealings and endeavours.
Any woman who under any circumstances or pressure acted in a humble manner with love and care to protect the interests of her husband, home and children's future will certainly be honoured, blessed and obtain God's favour to succeed and excel.
…Celebrating her husband, Dr. Ikemba Okonjo's qualities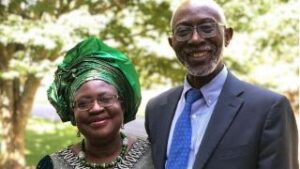 Everyone celebrates Dr. (Mrs) Ngozi Okonjo-Iweala on her career success and appointment as Director General of World Trade Organisation (WTO).
Many appreciate the parents for giving her the education and training needed for a greater future. The appreciation also extended to parents who train their girl-child to a higher level.
Majorly, in all these appreciation and celebration, one person who is rearly mentioned or talked about is her husband of 42 years, DR. IKEMBA IWEALA who had played a good role as an understanding, supporting and encouraging partner to her career, dreams and aspirations. He gave her the platform to spread, atmosphere to fly and environment to flow. He assisted in looking after the home front, when she travels around the world to carry out her call to duty responsibilities, making a name for herself, parting the way for her unborn generation, exhibiting her good background, displaying godly character, demonstrating the grace of God and manifesting uncommon happy home and life.
The husband did not feel threatened, unsecured or intimidated by her career global success and acknowledged honours. He instead created an ambience of liberty for her to be all that God wanted her to be without resistant or restriction.
There are some women who could achieve a lot for themselves, families, home, community and the nation, but they are suppressed, restricted and their wings clipped by marriage and husband's insignificant beliefs in some tradition and culture aided and abetted by ego, asking the woman to give up her career, dreams, aspirations and goals and remain married, taking care of the home and the children as a glorified housemaid.
In Okonjo's case, the husband gave her the needed support to pursue her dreams without using the children training and development as excuses to stop her.
He did not use his macho-ego to pull her down, termed her as prostitute or accused her of neglecting her home, neither did he went about reporting or allowing family members and friends interfering advise to control and determine how far his wife can go in her career.
Dr. Ikemba Iweala did not question her audacity of not sleeping at home regularly or not giving him and the children needed attention at home.
For being the engine that keeps the vehicle moving without complaints, breakdown or getting rusted to the detriment of damage, Dr. Iweala deserves commendations, appreciation and celebration as a good husband, father and leader who manage, mentor and motivate his home to excel.
He may not be perfect, as human, he is not expected to be one. But, the ability to manage, mentor and motivate his home, wife and children without interference, pressure or crisis deserves acknowledgment.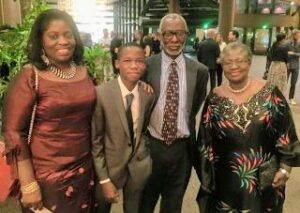 If Ngozi Okonjo-Iweala had married to an "enemy of progress" husband, a macho and ego centric man with intolerant tradition, culture and wrong beliefs or if she is timid, not aspiring, full of excuses, negativity and inferiority complex, she wouldn't have achieved and attained what becomes her pride, success and eventual fulfillment in life and endeavours today.
Kudos to Dr. Ikemba Iweala, an unsung hero for being the engine room to ensure smooth movement of the vehicle and the safe arrival. He is an exemplary model, mentor, manager, motivator, leader, father and husband in this generation and generation yet unborn.
There are other unsung great men and heroes who are silent engine that kept most vehicle going without complaints. They made the world a better place to live, love and learn.
Every man should develop the habit to positively drive their woman without making noise and every husband should encourage their wives endeavours; influence her good decisions, stand by her to maximize her potentials and motivate their home with fatherhood spirit and godly management.
Ten take aways from Dr. Ngozi Okonjo-Iweala successful career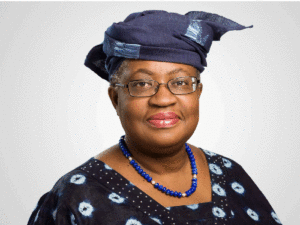 1. Her husband didn't relegate her to background as a house wife neither did she made herself inferior.
2. Her gender was not an obstacle to achieve her dream.
3. She proves, wives place does not end up in kitchen and bedroom room.
4. She didn't see marriage as final bus stop of pursuing her dreams and expecting the husband to provide for all her need.
5. She was loving, humble and submissive wife. And must have been prayerful and not
6. She didn't sleep around with men to live expensive life or junketing about going to owanbe.
7. She was not a feminist or a single mother who feels to big to live with a man.
8. She never exposed her body on social media to attract comments. She's simple, modest, classic, stylish and not flamboyant.
9. She didn't limit herself to be a wife, but goal oriented, purpose driven and desirous with been a virtuous woman.
10. She became one of the most successful, respected and celebrated wife, mother, career woman, home builder, leader, society influencer and generational blessing in the world.