Double Diamond Platform To Honour Justice Rhodes Vivior JSC., Prof. Stephen Aliu, Barr. Monday Ubani and Other Nigerians
An Online inspirational media organisation, Double Diamond Platform Global had set to honour some notable Nigerians who have, through their chosen field of endeavours, had contributed immensely to the development of Nigeria, human race and the general society.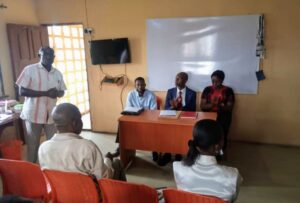 According to the Convener and coordinator of the platform, Dr. Prince Obed Ezeonye, the platform birthed three years ago, but came up strongly during the peak of the Covid -19 lockdown, spread to thousands of people across the globe with the goal of re-defining success from God's perspective and to promote excellence among Nigerians irrespective of endeavour and tribe. 
The platform also changed people's mindset, that success is possible without corruption and crime. One can succeed in life following God's principles with honour rather than sorrow.
The platform initiated the Award to honour, recognize, celebrate, appreciate and promote excellence among individual Nigerians, who have excelled in their fields of endeavour and impact on lives of people.
According to the Convener, Dr. Ezeonye, apart from the award presentation, the platform will have her inaugural public lecture on Thursday, 10 June at Excellence Hotel, Ogba and to be delivered by a respected Nigerian scholar and erudite, Prof. Anya O. Anya on the topic, "Nigeria Unity and Nation Building".
The event to be Chaired by Amb. Dr. Peter Isibor will have Bishop Bankole Jepherson as spiritual father. 
Among notable Nigerians to be honoured are, Hon. Justice Rhodes Vivior JSC., Prof. Sola Stephen Aliu, Rev. Dr. Tunde Bolanta, Dr. ( Mrs.) Uzoaku Williams, Engr. Steve Ayuba, Rev. Fr. Kuti Y. A Immanuel, Barr. Monday Onyekachi Ubani and other well meaning Nigerian men and women.