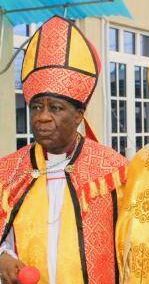 CPAN Mourns George Amu, Extol his Christian Leadership
The Christian Press Association of Nigeria (CPAN) joined others to condole the Christan community on the demise of Archbishop George Amu who passed on yesterday at the age of 80 years.
Archbishop George Amu until his death was the Presiding Bishop of Goodnews Bible Church, Alasia, Oshodi, Lagos. He was also a former Secretary-General of Christian Association of Nigeria (CAN), Lagos State chapter.
CPAN, in a statement by its President, Gracious Akintayo, noted that Amu was a man who demonstrated affection for the work of God and the Gospel.
"In his life time, Amu had meticulously served the body of Christ at various capacities with an outstanding record of good leadership. This was demonstrated when he served as Chairman, Mobilization Committee of the Great Millennium Crusade of Evang. Reinhard Bonnke in 2000", Akintayo noted.
"The late spiritual leader also served the Church and Nigeria at large, especially in the areas of fostering unity in the body of Christ and religious harmony in the country", he added.
Akintayo described the late cleric as a man with a sense of humor, a true patriot, a reverred spiritual leader and a sports enthuaist who contributed immensely to growth and development of football, athletics, cricket, boxing, swimming and tennis in Nigeria.
CPAN prays God to grant the late Archbishop George Amu eternal rest, and comfort his family, the church he left behind and the Nigeria Christian community generally.