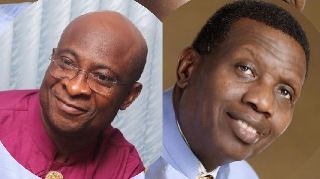 COVID-19 Church Reopening: Top Clerics Call for Prayers and Understanding
Following the decision and announcement of Lagos State government to lift the restriction on worship centres and reopening of churches on August 9 for resumption of services which have been on lockdown since the coronavirus pandemic in Nigeria.
Pastor Iruofagha James, the founding pastor of Glory Christian Ministries, Lagos has called on Christians, church leaders and Nigerians to keep praying and not weary as Churches have been ordered to be reopened by the government.
James was speaking on the recent announcement by the state government to reopen worship centres in Lagos State.
Even if the government has declared the reopening of worship centres, church leaders should honestly seek the face of God, pray and ensure the church environment is stimulated and spiritually conducive for the congregants, he said.
"The environment should not only meet the requirements by the government, but where people can be comfortable, healthy and have no reason to be afraid or panic. But to feel safe and secured in the presence of God".
He added, "Our concerns should be when people come to church after such a long period of COVID-19 locked up, they will not be distracted by other activities or protocol put in place, but the church environment and atmosphere will be stimulated spiritually to ignite people's service to God".
Pastor James advised Christians and church members to be patient, prayerful and cooperate with their pastors and church leaders for their own sake, safety and enjoyable moment before God as they physically reunite and congregate to worship and fellowship together.
In a related development, while giving reasons Christians must resume attending church services and worship in their various local churches, Pastor Enoch Adeboye, the General Overseer of the Redeemed Christian Church of God, RCCG, in a broadcast titled 'From Lockdown to Leaping Up', encouraged Christians and Church members to wear a face mask and observe other COVID-19 protocols.
He noted that some services will continue online, but urged congregants to be physically present in their various church services.
"I encourage you all to go back to church for fellowship and begin to enjoy the benefits of corporate prayers again. The Almighty God in Hebrews 10 vs 25 said that we should not forsake the assembly of one another.
"There are those who will talk to you and say 'why don't you continue to stay at home? After all, you can pray at home and God will hear you'. Yes, I agree. Anywhere you cry unto Him, He will answer. But He says specifically in Matthew 21 vs 13 that His house is called the House of Prayers.
"He himself designated the House of God as a place where you will pray and the answer will come fast. That is the reason why David says in Psalm 122 vs 1 that I was glad when they said unto me, let us go to the house of the Lord because He knows that when you go to the house of the Lord, you will be in his presence where there is fullness of joy," Pastor Adeboye said.
He, however, advised congregants to observe all protocols relating to the COVID-19 pandemic and wear masks to services, while they would be given hand sanitizers before entering the church.