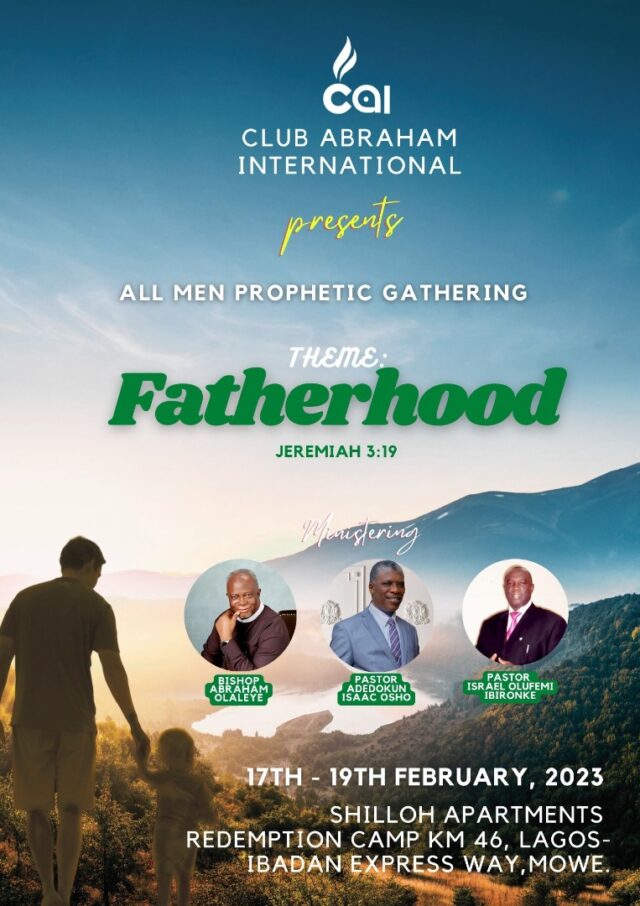 Club Abraham International 
2023 All Men Prophetic Gathering
Theme: "FATHERHOOD"
There is no doubt, the present economic pressure has left men with new stresses. For men who feel nobody knows what they are going through, they will realize there are thousands of other men going through similar things, if not worse.
Many men today are living in confusion and struggling because their roles as provider in the family have been swapped. Therefore, most men wonder how significant they are in the society where women nowadays go to work and earn more.
In the face of these daunting pressures, Club Abraham International (CAI), a faith based platform for manifesting the purpose of God in men's hearts, readily recognizes that men need support to avoid moral and spiritual pitfalls in pursuit of their purpose uniquely set apart all-male environment from the normal postures. Because, men are generally open to God's presence when they are with other men and humble themselves in Jesus Christ with commitment to a new beginning.
Statistics have shown that these days, men in Nigeria are in a deep emotional and spiritual crisis.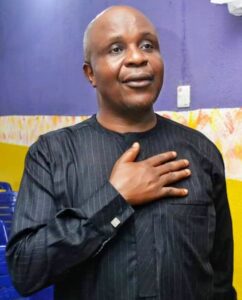 Divorce in Christian community is competing with the 50% rate of divorce in the circular world.

Two of every 5 Christian marriages experience physical abuse at the hand of the man. 

Only 4% of the millennial generation (age 14 – 30) has a biblical faith based in Jesus Christ.

Seven of ten young adults, who grew up in the church, leave the church when they graduate from high school.

The decaying of moral standard, character growth and spiritual development in our society are frontline by men. 
Men are the image and glory of God, but women are the glory of man. Men are called to lead, not only in the home and church, but in the society as well. God created all things and when He made Adam, He commissioned him to, "tend and keep it" (Gen. 2:19) and gave him a woman as a help, not only to procreate and populate the earth, but that the completeness of God will be revealed in their union.
In the kingdom of God, a leader is a shepherd and not a ruler. He leads by example and serves those he is called to lead. "So he shepherded them according to the integrity of his heart, and guided them by the skillfulness of his hands". (Psalms 78:72) 
In the context of fatherhood, a father is one called by God to lead his family in order to fulfill God's purpose for the family as a whole and for each member of the family. He has a destination in mind, and that vision includes raising godly seeds and helping them fulfill their God-given assignments in life, while loving and serving his family. God is at the center of his life and vision.
David was chosen by God to lead the people of Israel and he was successful in that task, because he led with integrity and competence built on the foundation of spirituality. Integrity is firm adherence to a code, especially of moral or artistic values, a case of incorruptibility, while competence is the quality or state of having sufficient knowledge, judgment, skill or strength.
These qualities are leadership traits required by believers in order to be positioned to provide effective service in any society and one of the roles of fathers in nation building is raising godly children with integrity and competence in their area of calling, so they can be positioned to serve the next generation. 
There is no move of God without men and men are warriors that have gone to sleep behind the wheel. The spiritual transformation through All Men Prophetic Gathering is an urgent answer to this move. 
If you are one of the men who are looking for either a starting point or a turning point in their life – this conference is targeted at you and you must endeavour to attend and participate in this conference.
The 2023 All Men Prophetic Gathering is expected to be an eye opener and mind blowing for men on fatherhood and how they can rebuild their lives and the next generation in a time of social and economic upheaval as we are now. It will be a wakeup call to men to learn that while they pursue their careers, daily activities and business, they also have to fortify themselves spiritually, mentally and psychologically lest they succumb to an unfavorable atmosphere pervading our environment and staring them in the face. They need to pray for each other and strengthen one another.  
This year's theme for All Men Prophetic Gathering is, "FATHERHOOD "and highly respected guest speakers expected at the conference include: Bishop Abraham Olaleye, Pastor Israel Olufemi Ibironke, Pastor Adedokun Isaac Osho and other resource speakers.
The two night conference is scheduled for Friday 17 to Sunday 19 February, 2023 at SHILOH APARTMENTS, Redemption Camp, Lagos-Ibadan Expressway, Mowe, Ogun State, promises to be an encounter of a lifetime.
For accommodation registration and other enquiry, please sms or whatsapp 08033137585, 08138148880