Children and Church Members Remember Their Father and Founder, Prophet (Dr.) Vasco Akanni, jp.
The Cherubim and Seraphim Church Unification Church of Nigeria, The Light of God Shines, Matori celebrated the 10 years memorial service of their beloved father and founder, SSA. Prophet (Dr.) Vasco Akanni, jp in Lagos.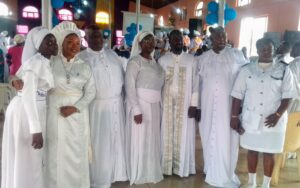 In his homely, titled, 'Sure Foundation' at the service, the guest speaker, Snr. Elder Apostle Bola Odubela while eulogising the late founder's exemplary lifestyle and for laying a legacy of good structure on the sure foundation of the Lord Jesus Christ. He said, "Jesus is the most sure foundation that is already laid, which we must all ensure we construct an enduring and good legacy of structure that is befitting upon ".
Quoting from the scriptures, Prophet Odubela added, "we must tell ourselves the truth to do the work of Him that sends us committedly, faithfully, diligently and truthfully with total dedication and devotion to the glory of His name".
He commended the family of the late founder, the church leadership and members for keeping the church going and growing in unity and love which was the trademark of the late founder.
In separate accounts and testimony of the late biological father and spiritual mentor, the current general overseer of the church, Evang. Babatunde Edun said, I was born as a Methodist and developed as a Baptist, but ended up becoming a member of the church in 1974 as a result of Baba's exemplary lifestyle as a good Christian. He exhibited godly virtues that attracted and led me to voluntarily decide to become a member of the church and since then, I have no cause to regret. I learnt a lot from his simplicity, humility and uncuning love for God and His work.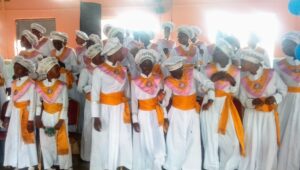 Apostle Moses Adeyemi-Vasco, The eldest of the children, said, "my late dad was a man with uncommon passion for God, he lived the life of openness and integrity for God and passed unto glory in the service of God and humanity. He bequeathed to us a sound, solid and secured structure on a sure foundation. We decided to celebrate his 10 years' memorial passage as if it was yesterday. Since his passing 10 years ago, there had been no crack in the family, nor crisis in the church. Instead there has been unity and love, the church is growing and the work of God is waxing stronger.
One of the sons, Apostle Adebola Vasco added that, 'the fond memory of our late father is unforgettable. He was an exemplary man of God and church leader. A good man who will not discriminate or classify people's tribe, religion or denomination before extending warm hands of fellowship, friendship and favour.
Family, church members and wellwishers turned out in their large numbers, with the church choir in their best; to celebrate the memorial of their beloved father and founder.