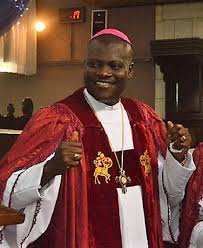 CHANGE OF BATON: Bishop Adegbite Becomes Lagos CAN Chairman
The Presiding Bishop of Ikeja Diocese of Methodist Church Nigeria, Bishop Stephen Adegbite has been elected as the Chairman of Christian Association of Nigeria, Lagos State Chapter.
The election which took place in December at the Hoares Memorial Methodist Church, Yaba had delegates from all the five blocs including Christian Council of Nigeria (CCN), Catholic Society of Nigeria (CSN), Organisation of African Indigenous Churches (OAIC), ECWA/TEKAN and PFN/CPFN.
Bishop Adegbite, a consensus candidate of CCN, comprises of Methodist, Anglican and Baptist churches, overwhelmely emerged in a peaceful election process and took over from the former Chairman, Apostle Alexander Bamgbola of PFN/CPFN bloc, whose tenure of second term since 2014 was completed in November 2020.
Meanwhile, under the new resolution, CAN is to have one single term for all its elected officials from the national level to the grassroot level. Bishop Adegbite will serve a single term of 5 years instead of the former renewable three-year term.
The new Chairman, a sport enthusiast and charismatic personality before his election, has at various times served in various capacity of the association for many years as the chairman of the CCN southwest, National Director Youths and Social Welfare, CAN headquarters, Abuja. Also, he was the Treasurer in the past executive of the Lagos State CAN.
In another development, the former State Chairman, Apostle (Prof.) Alexander Bamgbola has formally handed over the leadership baton to the newly elected State Chairman, Bishop Steve Adegbite.