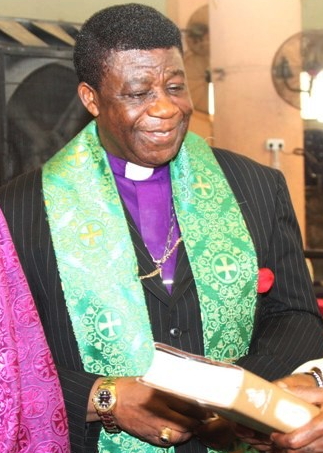 BREAKING: Archbishop George Amu Passes onto Glory -Gracious Akintayo
This is to confirm the passage of a charismatic, jovial and always bubbling Christian leader in Nigeria, Archbishop George Amu, the Presiding Bishop of Goodnews Bible Church, Alasia, Oshodi, Lagos and for many years, the Secretary General of Christian Association of Nigeria, Lagos State chapter, later the body Deputy Vice Chairman and former Executive member of Lagos State PFN.
Bishop Amu was the first secretary to Pa Bilewu Oshoffa (late founder of Celestial Church of Christ) and former Zone 2 PCRC Chairman, Lagos/Ogun State. A sport enthusiast, player and promoter of football, athletics, cricket, boxing, swimming and tennis. I am the Deputy Chairman of the Christian Association of Nigeria, Executive Member of Pentecostal Fellowship of Nigeria, Lagos State. He was the Mobilization Committee Chairman of the highly successful Great Millennium Crusade of Reinhard Bonnk in 2000.
A proud old student of famous St. Gregory College, Obalende.
In the year 2017 he had a stroke which he miraculously got healed and was able to be back on his feet in the service of God.
Archbishop will be sorely missed by his loving wife and partner of 53 years, Rev. (Mrs.) Modupe Amu, their 5 children and grandchildren, also many spiritual children.