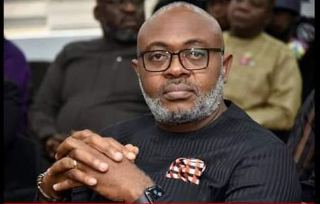 Book Review:
A Review of Azuh Arinze's Duology "Encounters: Lesson From My journalism Career" and "Success is NOT Served À La Carte." -By Emeka Oparah
Let me begin, as is the tradition, by thanking my brother Azuh Arinze for finding me worthy to review his books. I consider that a privilege and I will not take the honour for granted. By the way, I have a combination of admiration and envy for Azuh. This double paroxysm of emotions is fuelled by the success he has made in his relatively young but rich journalism career. I speak particularly of his weblike network of lucrative contacts and useful friends. I could have been like him, but I took off after studying the same Mass Communication Azuh studied and now look at him and look at me! Azuh has done exceedingly well, by all journalistic and human standards, and deserves a resounding applause. He is tenacious, conscientious, committed, courageous, and industrious. I am truly proud of you, my brother.
As we say in my hometown, Mbaise, if the music changes, the dance step also changes. These are not normal times hence the paranormal setting of this book launch. I have, therefore, also taken the cue and settled for an abnormal approach to the book review. I will avoid the old school textbook chapter-by-chapter in-depth style which, ironically, has the tendency to discourage people from investing their own time in reading a new book. So, come with me as I serve you a la carte some of the lessons I learnt from my successful encounter with these two amazing books.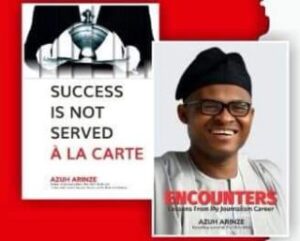 Where do I begin, ladies and gentlemen? Let me begin from Encounters. I read all of the 60 stories he told very well in this book, and I dare say all of them were unputdownable. From the opening shot, which was a highly edited version of how he (truly) met and wooed his wife, Edith, to the last, though not the least, which was about the irrepressible UK-based Dayo Olomu, the author poured his energy into torch-lighting the lessons we should learn from those encounters.
Azuh was generous to both himself and the people he used to spin his beautiful yarns. He was also generous to the reader by the way he plotted the stories to make them free-flowing and easy to grasp. In doing so, his personal authenticity and the integrity of the stories could, therefore, not be questioned. One particular virtue that stuck out in every single story was GRATITUDE. Without spelling it out, Azuh, by his Encounters, is saying to the reader, when you show gratitude to people, they will go the extra mile to do more for you. That, ladies and gentlemen, is a time-tested truism. Gratitude and reciprocity make the world go round.
I am particularly touched by the story of Julius Agwu, "a genius slowed by ill-health". Isn't it remarkable their relationship grew from professional to family and Julius is the godfather of Azuh's daughter? I personally know Julius. Like Azuh, he's a wonderful human being. As kindred spirits, it was, therefore, easy for them to take their friendship to the next level (apologies to the APC). That is a great message right there. Look out for kindred spirits and bring them closer!
Another great story is that of the man we all call KB, Kunle Bakare, a very highly understated but eminently talented journalist and man of class and style. Hear Azuh: "Taking me under his wings, he offered and taught me practically everything-from journalism training to exposure, life lessons to guide and even discipline, whenever I was beginning to derail. And for 17 unforgettable years, I humbly learnt at his feet." You know how it is in these parts of the world, to break out and go into the same line of business as your boss and mentor. However, KB and Azuh's case has been remarkably different. And we are talking about an Igbo and Yoruba. The stereotypical tales of betrayal and sabotage were rather supplanted by stories of love, appreciation and support as you would see when you read Encounters.
By the way, I saw Azuh's employment letter from National Encomium at an Annual Salary of N78,000 as Senior Staff Writer in 1997. He went on to become the Editor for 8 years, leaving in March 2011, according to his resignation letter, also published. If that is not hard work and commitment and recognition, then you may please tell me what is.
Another noteworthy story is that of KOK-Kanayo O. Kanayo, the legendary actor, who reputedly plays the don or godfather in every Nollywood movie with money rituals. Azuh and KOK could have ended up enemies because of an unfavourable story he (Azuh) wrote about him (KOK). But Azuh's humility and an act of contrition saved the day. Sorry is still a magic word. Azuh deployed it honourably and admirably and was able to save a friendship that would have hit the rocks. KOK, himself, did not show gracelessness. Two good men, who understand the amazing power of apology and forgiveness. I should quickly lay claim to KOK as my brother being himself an Mbaise man like me.
Azuh set out in this book to share lessons in building networks, self-confidence, tenacity, professionalism, having an attitude of gratitude, reciprocity, building and sustaining friendships, etc, etc. Whether you are reading about the Elegant Stallion, Onyeka Onwenu or Corporate Titan, Broadcaster, Teacher and Diplomat, Dr. Christopher Kolade, or renowned Sportscaster and Brila FM Founder, Larry Izamoje or the other eminent and accomplished men and women featured in this book, you will be richly blessed with the knowledge and wisdom creatively weaved into beautiful stories. If you pay close attention, you may easily relate to some of the stories. They are simply magical.
Success is not served a la carte is as interesting as Encounters, if not more. Here, the 30 POWERFUL personalities he featured spoke for themselves. This is a sort of Who's Who in Nigeria carefully selected from various spheres of life. And that's the magic and essence of the book. The author not only introduces you to 30 absolutely successful Nigerian men and women, but he also guides you into their lives, their thoughts and their works without passing verdicts or giving his opinions. In a country that's suffering from a scarcity of so many things including that of icons and mentors, this is indeed a great intervention meant to surface these rare gems amongst us.
I could not but read the opening interview over and over again and I will tell you why presently. I'm talking about the interview with Dr. Christopher Kolade who, by the way, also featured in Encounters. Dr. Kolade was my former boss. I can confidently make that claim. He was the Executive Chairman of Cadbury Nigeria when I joined the company in 1994 as Media Relations Manager. I was in the team that organised the ceremonies for his first retirement from the company in 1998. I was also in the team that organised his send forth for his second retirement when he relinquished the Chairmanship of the company to become Nigeria's Representative at the Court of St. James otherwise known as High Commissioner to the United Kingdom. By the way, I was the one who delivered his letter of acceptance of that appointment to the then President Obasanjo at the Villa-unbeknownst to me.
I will not be saying anything new today if I say Dr. Kolade is a LIVING LEGEND and a HUMAN ENCYCLOPEDIA, but I can assure you there is great knowledge and wisdom, management, leadership and diplomacy packed into the first chapter of this book dedicated, I should say strategically, to this sage. Listening to his many sagacious speeches at company events back then nearly made me a Professor of Management! My father told me, if I bought a book and managed to read only one chapter that I have achieved something major. Imagine if you bought 50 books and read one chapter of each. So, I want to tell you the same, ladies and gentlemen: if you buy or get gifted this book and you manage to read only Chapter One, the one on Dr. Kolade, you have achieved something truly major.
The book features two pastors -Anselm Madubuko of Revival Assembly and Wole Oladiyun of Christ Livingspring Apostolic Ministry) -one after the other-like the author was trying to compare them, but I know he was not. Same thing with Lolu Akinwunmi and Steve Babaeko -two advertising giants -present and past Presidents of AAAN -with Lolu ahead of his protege, Steve. There is a fascinating interview with my brother and good friend, Ebun-Olu Adegboruwa, SAN, right behind that of the Legal Amazon, Funke Aboyade, SAN. The story of Adegboruwa's rise from nothing to something is one you must take the time to read.
The author took his time to extend his tentacles to the various professions with a heavy bias for the media and entertainment and, to some extent, Law, business and sports. On a lighter note, I noticed he featured Evans Akere popularly known as Vanskere, a tailor, and Ayeni Adekunle, one of the rising stars in Public Relations in Nigeria, but he didn't feature me -a Tailor and PR practitioner rolled into one. On a more serious note, he should have found a Medical Doctor, a banker, a creative Artist, a Musician, a FinTech person, a royal father, etc, just to expand and deepen the variety of knowledge and information in the otherwise wonderful compendium. Hopefully, the follow-up edition will take care of this obvious lacuna.
It was Andre Breton, the French Poet, who wrote and I quote: "Of all the arts in which the wise excel, nature's chief masterpiece is writing well". Azuh Arinze by sheer hard work and dedication has so mastered the art of writing well that he does it effortlessly and passionately. Particularly in Encounters, where he wrote from his heart and not what he recorded on his tape recorder, Azuh showed he has come of age in the business of storytelling. After all, 20-something years is NOT a joke!
According to Francis Bacon, the English Philosopher, "reading maketh a full man; conference a ready man; and writing an exact man". If anyone was ever in doubt of his exactitude, Azuh has proven himself with these two books and the one before them, The CEO Bible 1&2.
But for a few typos and other minor snags here and there, which I believe will be corrected in future prints, the Author did a magnificent job. In Encounters, the author featured color and black and white photos. I didn't like it. If he went black and white ostensibly to save costs, then he must stick with it as he did in "Success is not Served À La Carte". Even so, the photos could have been crispier on art paper than they do on the off-cut.
Finally, I don't know exactly what the author meant by a la carte in the circumstance but let me guess. As a culinary terminology with a French etymology, a la carte means food which is priced and can be ordered as separate items rather than part of a set meal. The question now is this: can Success come as a whole or part of a whole? To me, the author is saying read the whole book to get the whole message. Or something like that.
Just before I end this review, I just remembered how hard I laughed at the cheeky headline the author used for the story of his encounter with Femi Adesina, Special Adviser to the President on Media and Publicity. He entitled it "Femi Adesina: A good man in Aso Rock", like that place is NOT meant for good men. Azuh Arinze can be mischievous and sometimes diabolical with his sense of humour.
Mr. Chairman, Distinguished Ladies and Gentlemen, I strongly recommend these two books to everyone, especially students and young graduates, who are looking for direction as well as the more experienced professionals who are looking for inspiration. Of course, everyone should have a copy of these books for there is something for everyone chapters after chapter.
Once again, I congratulate you, my brother, Azuh Arinze, and I thank you all for your time and attention.
God bless you immediately.
Emeka Oparah
Vice President Corporate Communications & CSR
Airtel Nigeria,
Lagos, Nigeria.