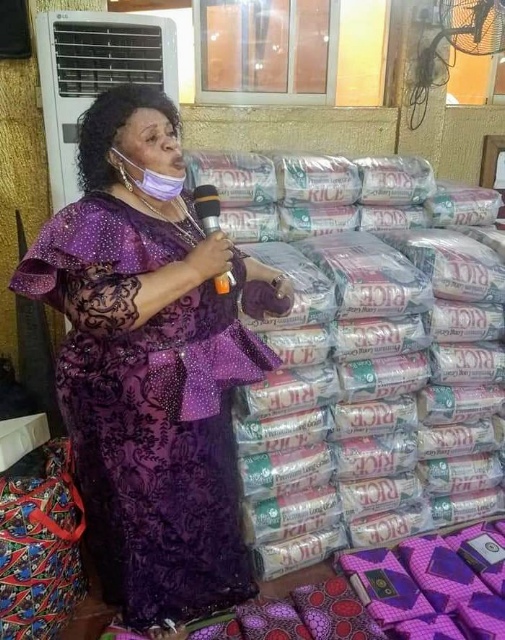 Bishop Chioma Dauji Empowers 1000 Widows and Orphans, …gave them royal treatment -By Gracious Akintayo
Great Life Changers Foundation International (GLCFIN), a duly recognized and legally registered faith-based established as a result of deep passion of the visioner, Bishop (Mrs.) Chioma Grace Dauji, to offer hope to the lost souls, less privileged, hopeless, helpless, rejected, dehumanized and abused people in the society.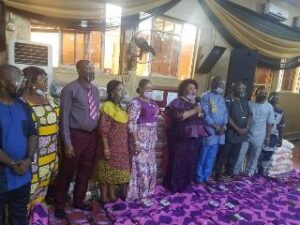 The foundation with focal point of Rehabilitation, Reformation, Re-integration and Re-absorption is envisioned to raise giants from the rejected and marginalized through physical and spiritual empowerment through the instrument of rehabilitation and Re-integration.
The NGO has carried out some accomplished and visible humanitarian projects since the establishment.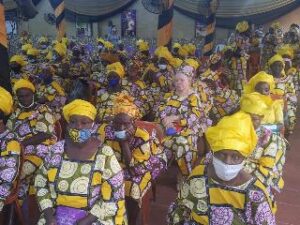 Major aspect of the GLCFIN is an annual empowerment of identified widows and orphans from every sphere of life, religion and ethnicity.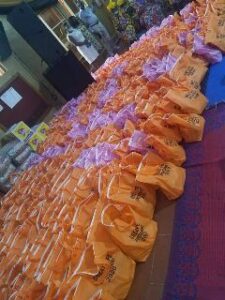 Amidst hues and fears of Covid-19 with downward global economy affecting the general society and the world, the NGO this year 2020, went extra mile and increase the numbers of widows and orphans empowered.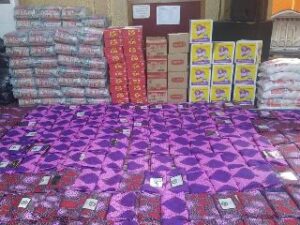 The joy and happiness of not only been empowered with medium size bag of a 5kg rice, a 75 liter of groundnut oil, assorted cooking item and 6yrds of Ankara clothes with cash gift as transport fare to all the widows; but creating an atmosphere of friendship, relaxation and comfort make them more happier. This is in addition to giving them royale fetes with food and drinks as they await to receive their empowerment packages. Momentum of importance was felt in the faces of these young, old and elderly widows as they freely exchanged banters in their adorned yellow Ankara aso-ebi.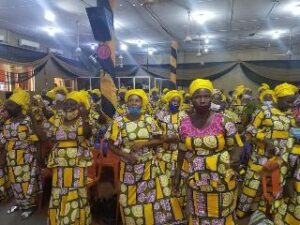 The well packaged and organized programme with strict compliance and observance of Covid-19 rules and regulations maintained orderliness and discipline.
According to the visioner, Bishop Chioma Grace Dauji, who also, the Presiding Bishop of Amazing Grace Pentecostal Bible Church, Palmgrove, Lagos, said, since the inception of the vision, every year, the numbers of the widows kept increasing with the orphans also growing, which is due to our society wrong perception and ill-informed about the plight of the widows.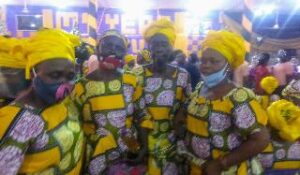 Bishop Dauji maintained that widowhood is not a curse, disease or plague the society should discriminate against. She decried where the society, tradition and culture subject widows to every form of abuse, marginalization, maltreatment, neglection, rejection and dehumanized against their wish and for what they cannot explained.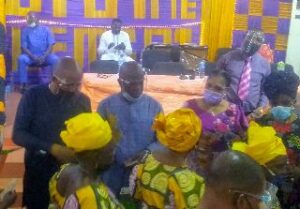 Dauji appeal to every section of government to consider widows and orphans in their plans, budget and activities. "Oftentimes, what they need is love, attention and respect, not necessarily because they are hungry or in lack, but want people accorded them respect, identify with their plight and show them love", she said.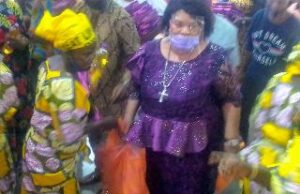 It was heart breaking listening to the pains, agony and woes some of these widow mostly from far distance and outside Lagos are going through in their respective place without anyone fighting for their course.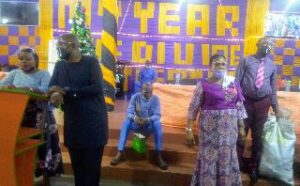 Sharing their experiences of neglection, maltreatment and rejection, most of them had as a result became homeless, paralysed and sick with different ailment.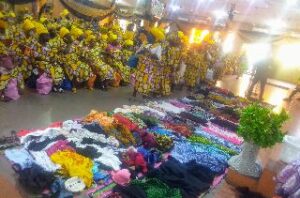 A widow on crutches lamented that, her encounter with GLCFIN changed her life and gave her hope to live again. "Their humanitarian attitude and attention to widows is great without stipulated condition or demand of fee". Another widow said, "I was already counting my days on earth when I came in contact with the NGO, I met the visioner and for the first time, she instructed I should be taking to the hospital for proper medical care.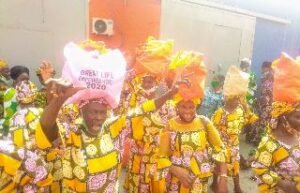 I was admitted for one week with the all expenses paid. After my medical treatment. Mama counselled, prayed and encouraged me and later gave me money to start my business. Even when I am not a member of her church. She has since then become my friend and guiding angel.
The widows in their numbers as they trooped out happily with loads of their packages, going home dancing and rejoicing after the programme. They exclaimed and described the empowerment as one they yearly look forward to as a result of godly and genuine sincerity; uniqueness, quality, touch of class and respect attached to widows plight.