Be Humble to Give Thanks -Rev. Micheal Abiri
Christians have been called upon to put aside every situation and circumstances around them and consider it great honour to be humble with joy to give thanks to God.
Rev. Michael Abiri made the call during his exhortation at Christian Association of Nigeria (CAN) Bariga LCDA Chapter annual Interdenominational Thanksgiving Service (IDTS 2020) held at ECWA Church, Pedro, Bariga, Lagos.
There are many uncountable and immeasurable reasons to give give thanks to God, no matter the situation we found ourselves or circumstances around us. For as much, we sleep and wake, go out and come back, enjoying the weather and not walking around naked, but living with the hope and expectations of His promises -that is why God has gone ahead in His word, instructing and telling us, "in all things, give thanks". "This is the only demand of God, despite every other thing we deserve and not deserved, including life and Jesus Christ He gave us", he said.
Rev. Abiri added, "Christians should always positioned their heart and mind to thank God, so that, like Mary, mother of Jesus was located by the angel, the angel of God can also locate them with their blessings".
"To receive more from God, give Him thanks and in our Thanksgiving, let us be humble", he said.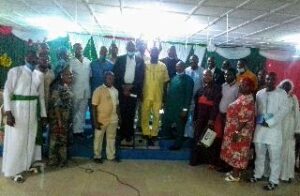 In his remark, the Chairman of Bariga LCDA, represented by the Chief of Staff/S. A Works, Hon. Ademojo Adebowale, he congratulate the Christian leaders and Christians in Bariga for the success of the programme and for maintaining the spirit of unity and oneness among them. He appreciate the moral and spiritual support of the church and church leaders for the local community development area. He called for more prayers for the government and people in government. He advised that, they should continue in the unity of the spirit and carry along his office in subsequent planning.
While wishing everyone merry Christmas and prosperous happy new year in advance, the Coordinator and Chairman of CAN Bariga LCDA Chapter, Rev. Clement Dada, thank everyone that attended and contributed to the success of the programme. He appreciates the churches and their leaders in Bariga for unalloyed commitment, support and cooperation to build the desired spirit of unity and oneness in Christendom. Rev. Dada assured that, the next year IDTS 2021 success will surpassed this year.
One of the highlight at the service was members bloc taking turns for their Thanksgiving with the mass choir performance. Other participating choir that rendered songs during the nine lesson includes, ECWA choir 1 and 2, OAIC choir 1 and 2, CPFN choir, CCN choir among others including a guest artiste.
The Thanksgiving attracts large turnout of Christians from different denomination and parades top ministers of God in Bariga LCDA including, Rev. Tunde Elebute, Pastor Ayo Daramola (C.A.C and Chairman, Planning Committee), Rev. Yomi Olaniru (host pastor), Pastor A. Agbeyemi (Sec. CAN Bariga LCDA), a Major from the Salvation Army among others.