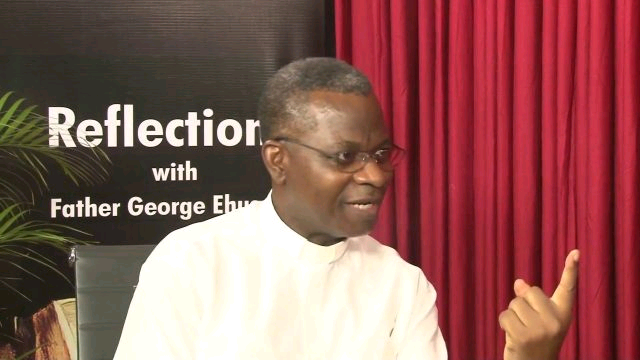 Any Christian Watching BBNaija Cannot Make Heaven, the eye symbol is Lucifer sign
–
Rev. Fr. George Ehusami
A Nigerian Catholic priest serving at Lux Terra Chaplaincy, Fr George Ehusani has explained that the Eye sign of reality Tv show, Big Brother Nigeria is an evil and lucifer sign.
The Priest made this openly known during one of his ministration, Fr. Ehusani said, "people who on a daily basis thronged to watch BBN reality shows and claimed to be Christians are charlatans and not genuine Christians.
"You cannot call yourself a Christian and be openly watching porn and expect to make heaven," he said.
He noted that there was nothing educational and inspiring about the show, adding that something had to be done about the show before it causes more harm than expected in the society, especially to the younger generation.
He asked rhetorically, "What is Big Brother and what are the ideas portrayed there? What exactly are young people learning from the show? I have not been able to get one person to tell me one thing that is educational about that show. Truth is, the Eye sign of Big Brother is an evil sign, known as the lucifer sign," he said.
"There are thousands of educative and inspiring programmes to watch on TV but some people and Christians choose to keep watching a reality TV show that has nothing but rot to offer.
"Even the Churches in the U.S spoke in unison when they condemned the show and requested that they take it off their Tv programmes and in the US today, this was how the show was taken off the Tv.
"This matter should be hugely considered for discussion in our society and if we do not come together to do something about it, it will be too late and there will be a lot of damage to be worked on by the time