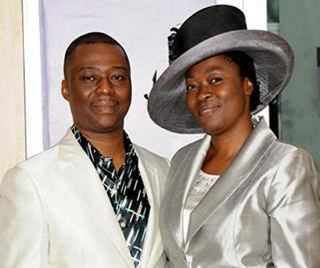 7 Similarities Between Pastor (Dr.) D.K Olukoya and his wife, Folashade
Some marriage are divinely purposed, prepared and planned, while many are pursued, arranged and organised in anyway marriage is marriage and it is what you bring out of it that matters. But some marriage are not just a marriage, they are patterned purposefully for partnership. These are the marriage that are beyond human pursuit or arrangement.
Here are the 7 Similarities that define Pastors (Dr.) Daniel K. Olukoya, the founding pastor, Mountain of Fire and Miracle Ministries, and his amiable wife Pastor (Mrs.) Folashade Olukoya marriage as divinely purposed, prepared and arranged for earthly Kingdom service.
These similarities exist with respect to their individual personality, upbringing and ministries.
We celebrate their lives of service in the vineyard and to humanity on the occasion of their birthday.
These similarities are:
1. They were born separately on the same 15th of July, but different years. Pastor (Dr) Daniel Kolawole Olukoya was born in 1957, his wife, Pastor Shade was born in 1967. They are exactly ten years apart.
2. They respectively attended Orthodox missionary schools for their elementary education pursuit. While, Dr. Olukoya attended St. Jude's Primary School, Akure and Methodist Boys High School before proceeding to University of Lagos (UNILAG).
The wife attended Surulere Baptist Primary School and Reagan Memorial Baptist Girls Secondary School, Lagos.
3. Both of them separately attended only male and female schools.
4. They both had international (United Kingdom) educational certification.
Dr. Olukoya had his post graduate degree at the University of Reading, Berkshire, England. The wife, had her diploma and Bachelor of Arts at Darnley Career Academy, London.
5. They shared and drank from same spiritual fountain. Mrs. Shade Olukoya was born and brought up in Christ Apostolic Church (CAC), founded by Apostle Babalola and Dr. Olukoya, though not a member of C.A.C, but admired and was greatly influenced by Apostle Babalola who was his mentor.
6. They were both zealous, passionate and purpose driven for God from their youthful days.
7. They were respectively given birth to by Christian parents who not nurtured and responsibly brought them up in the way of the Lord.
Please wish them a happy birthday!!!